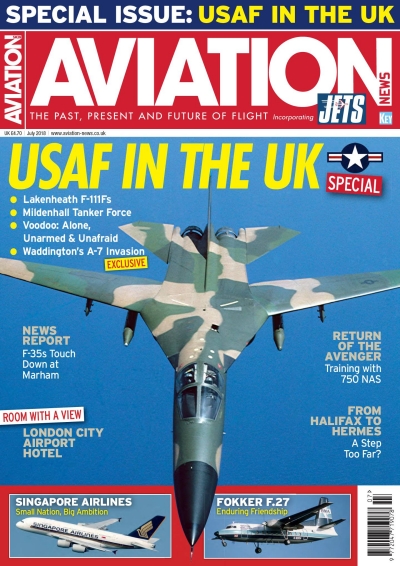 USAF IN THE UK SPECIAL
Voodoo: Alone, Unarmed and Unafraid
Group Captain Nigel Walpole looks back at the RF-101 Voodoo's time at Upper Heyford.
Waddington's A-7 Invasion
No fewer than 36 Air National Guard A-7 Corsair IIs descended on RAF Waddington in 1985 for Coronet Buffalo. Editor Dino Carrara spoke to two pilots who took part in this memorable Cold War deployment.

Mildenhall Tanker Force
The Mildenhall-based 100th Air Refueling Wing is a vital unit at the heart of today's USAF. Nigel Price examines its workload, from medevacs to supporting major exercises.
Lakenheath's F-111Fs
Doug Gordon details the F-111F's time with 48th Tactical Fighter Wing.
ALSO IN THIS ISSUE
Singapore Airlines: Small Nation, Big Ambition
Singapore Airlines has grown to become one of the world's leading airlines. Kevan James charts its rise.
Enduring Friendship
Stephen Skinner tells the story of the Fokker Friendship and the Fairchild F-27 and FH-227.
Return of the Avenger
Avenger T1s at RNAS Culdrose are proving to be ideal 'flying classrooms' for training observers in myriad tasks. Guy Warner reports from 750 NAS whose training role has expanded.
Halifax to Hermes
Producing the Hermes propliner was a bold move by Handley Page in war-torn 1940s Britain, but this important aircraft has largely been overlooked by the history books. Stephen Skinner gives an overview of a type that was ahead of its time.
REGULARS
Headlines
Civil News
Military News
Preservation News
Flight Bag
Airshow News
Air Events Dates
Room with a View
Airport Movements
Air Base Movements
Register Review
Pick up your copy now, direct from http://www.aviation-news.co.uk or in leading newsagents. Alternatively, you can download a digital edition from http://www.pocketmags.com - simply search 'Aviation News'