Another delve into the goodie box has resulted in this selection of Phantoms from a time when the US Navy was definitely into high visibility colour schemes - and applied them to all squadron aircraft, not just one or two, as is the case today. I'm sorry they are all a bit static, but opportunities to shoot them moving didn't come my way too often - more's the pity... Anyway, they are presented in squadron number order, starting with a VF-21 F-4J CAG-bird at Miramar in October 1973.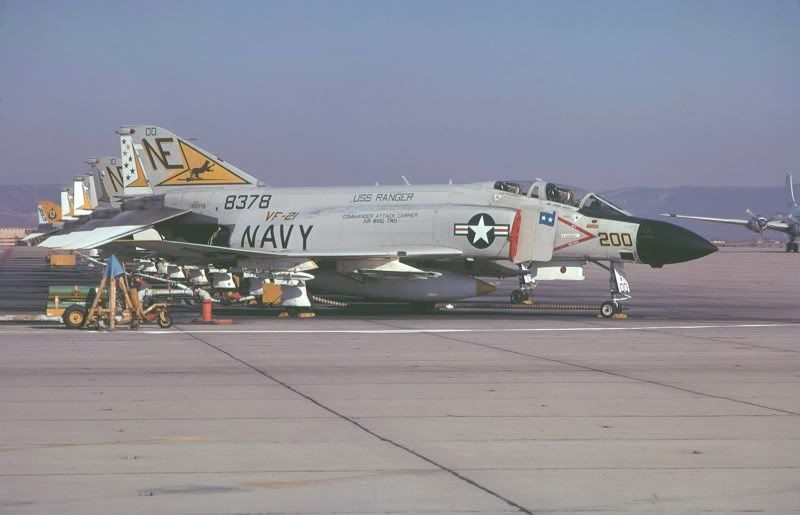 Next is a VF-31 F-4J at Oceana in October 1978...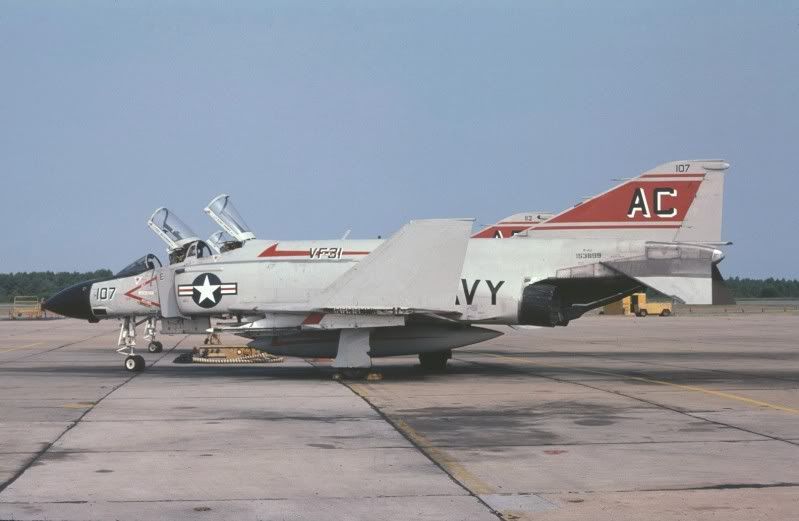 VF-33 Oceana August 1975...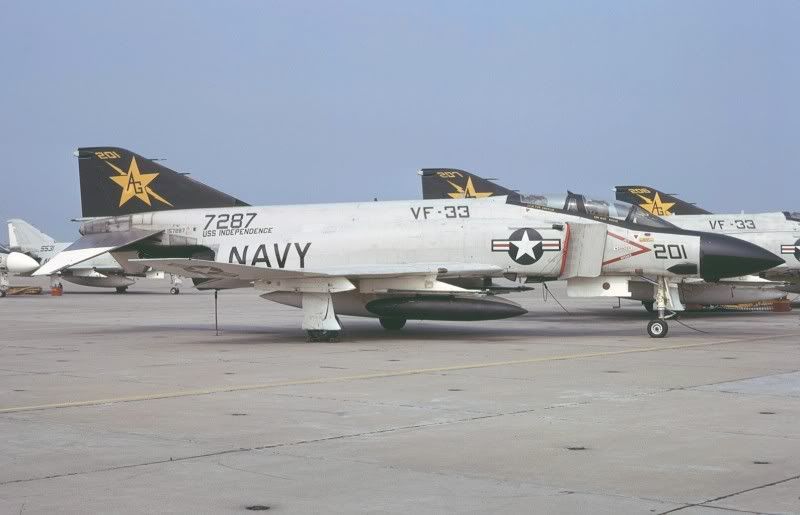 VF-51 F-4B at Andrews in September 1972...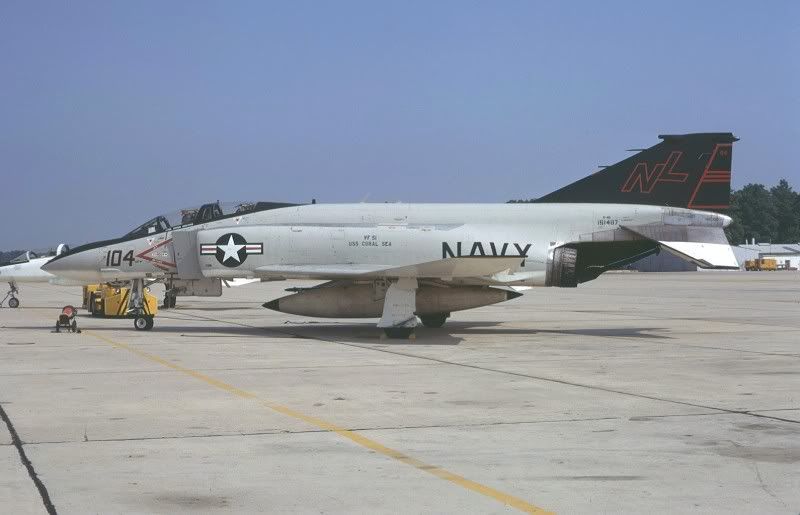 By September 1975, VF-51 had transitioned to the F-4N and also modified its colour scheme. This F-4N was caught at Patuxent River...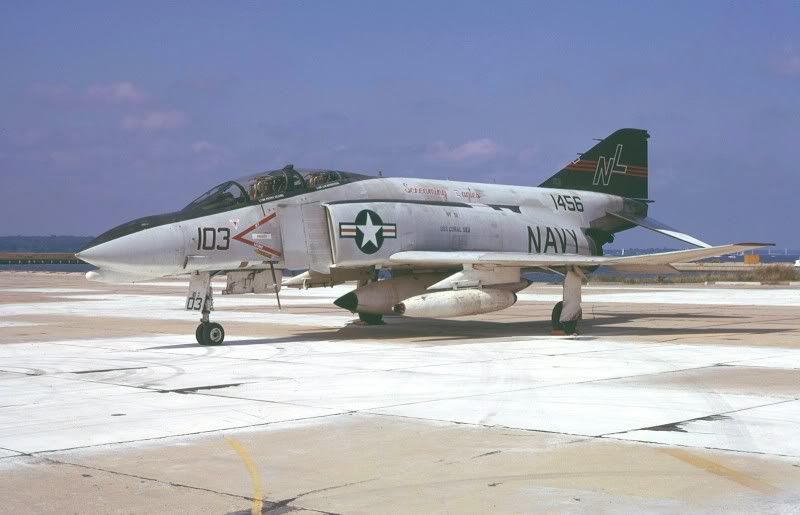 One month later, I ran into VF-51's F-4N CAG-bird at Miramar...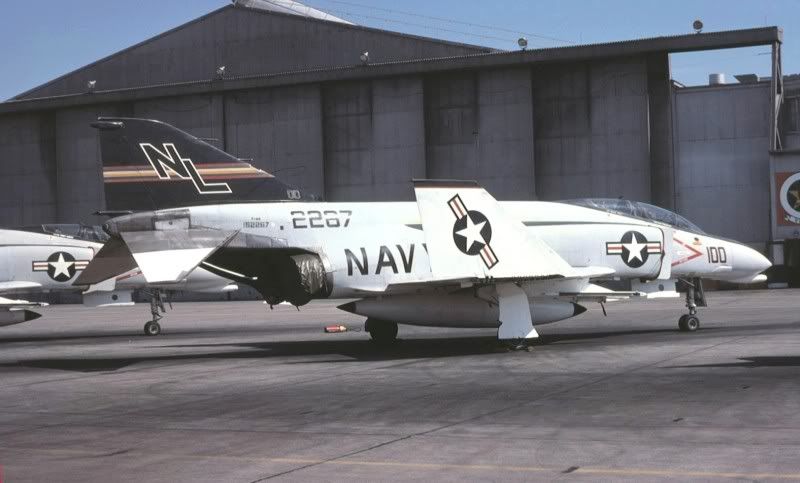 This VF-92 F-4J was a visitor to Andrews in February 1972...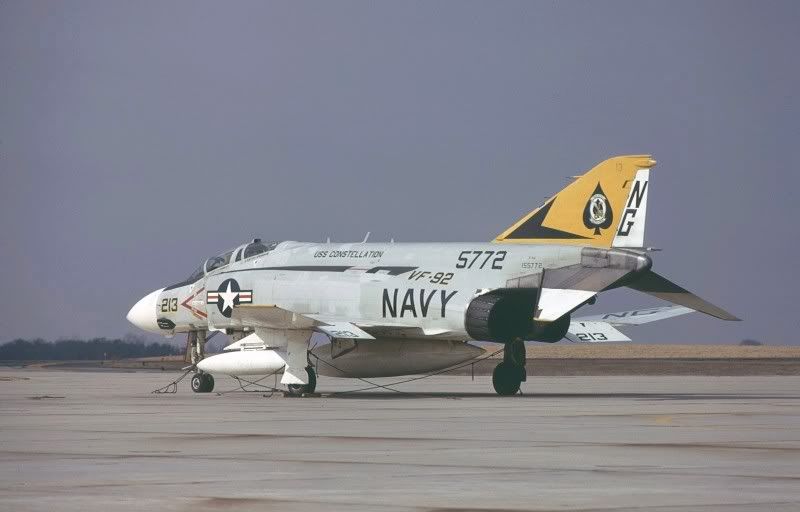 At home base between cruises, a VF-96 F-4J...
Responsibility for training Atlantic Fleet personnel was assigned to VF-101 at Oceana and one of their F-4Js is seen at home base in August 1975...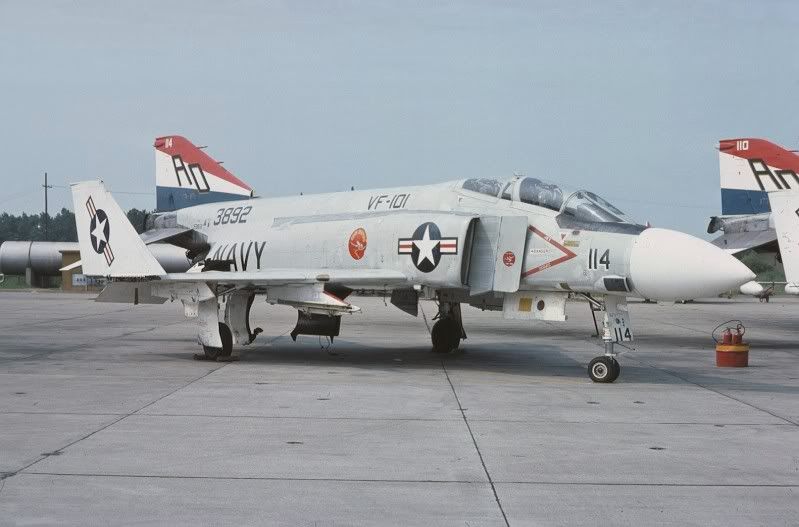 The USS America paid a brief visit to Portsmouth at the beginning of October 1974 and featured a complement of aircraft that had been hastily assembled for an exercise. Despite carrying USS Saratoga inscriptions, this F-4J from VF-103 was definitely on the America...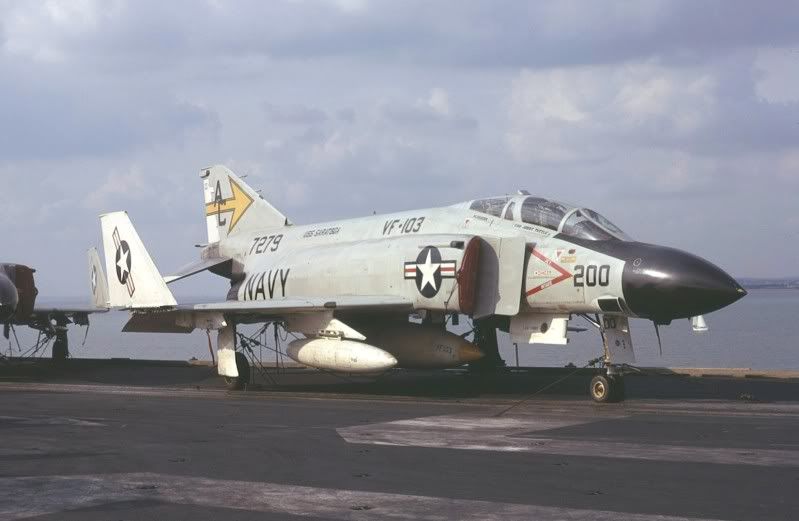 Miramar's 1975 open house featured VF-111's F-4N CAG-bird in the static display...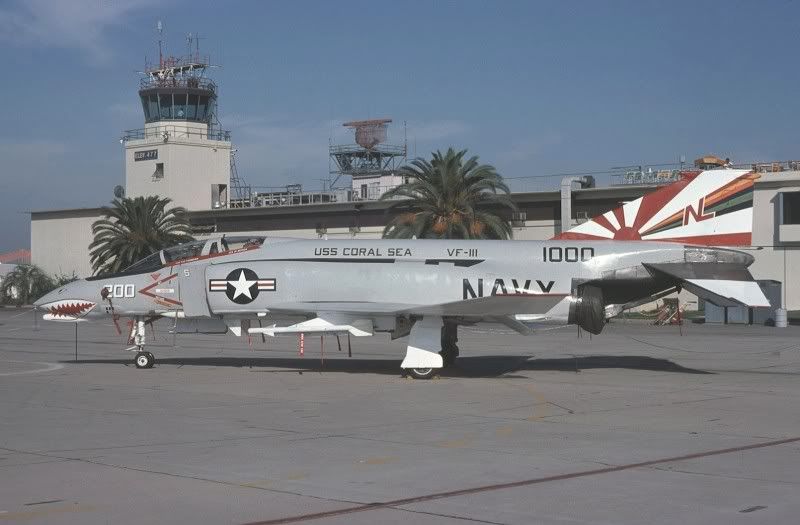 Two years earlier, in October 1973, a VF-114 F-4J at Miramar...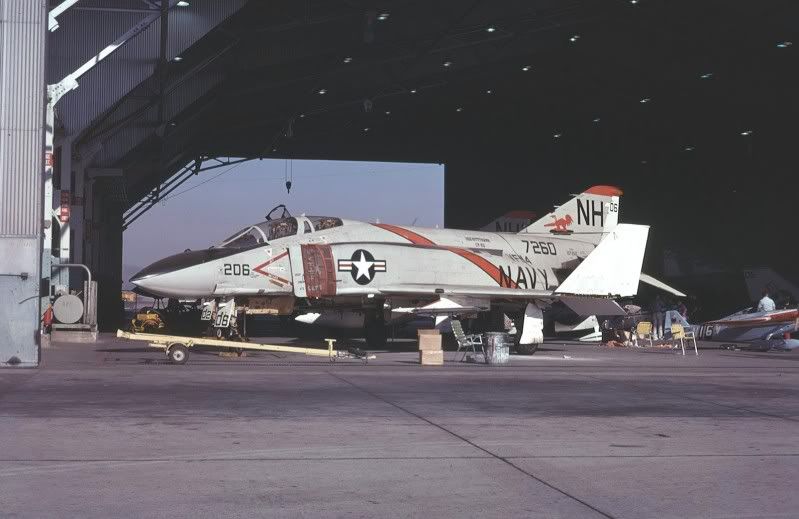 Also at Miramar in October 1973, this F-4J is assigned to VF-121, which served as the training unit for the Pacific Fleet F-4 community...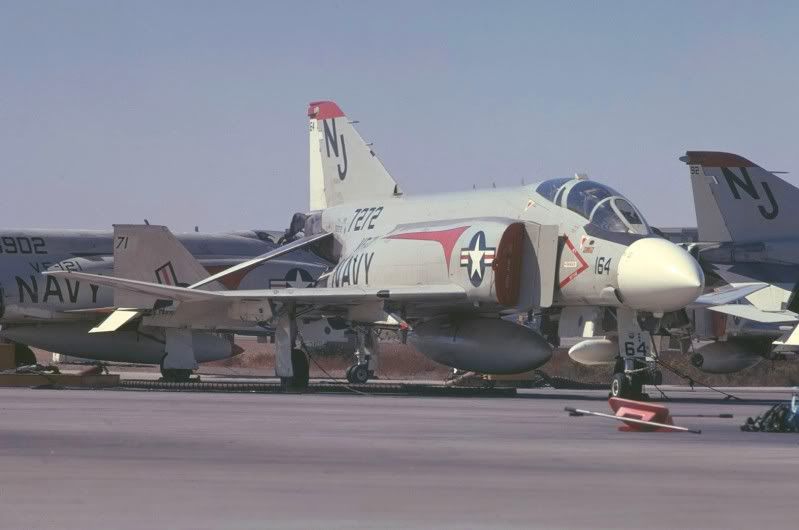 Also to be seen amongst more than 100 Navy Phantoms at Miramar in October 1973 was this VF-142 F-4J...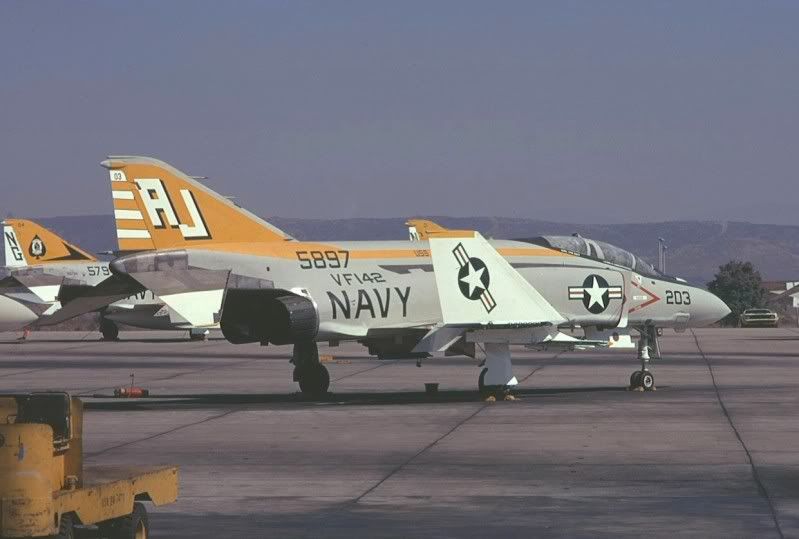 VF-143 was the sister squadron to VF-142 and also operated the F-4J. Although most deployments were made aboard Pacific Fleet carriers, these two units performed their final tour of sea duty in the F-4 era on the USS America with the Atlantic Fleet. They were seen at Miramar shortly after getting home and just before transitioning to the F-14A at Oceana...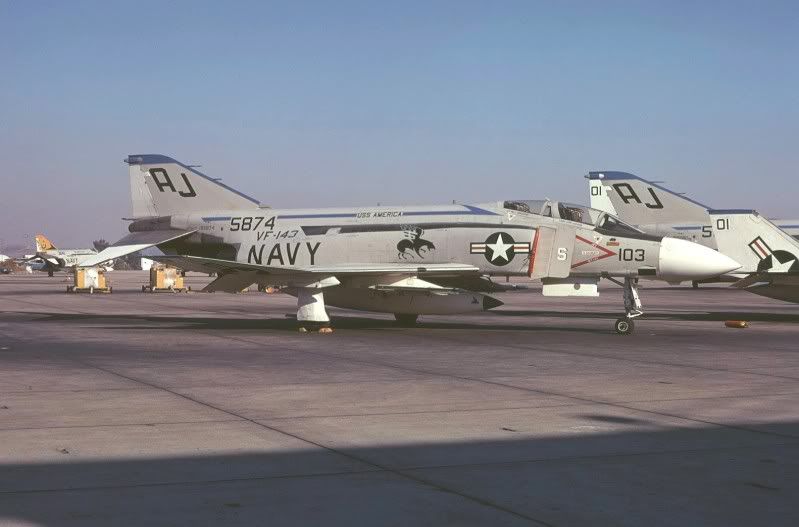 Another surprise item on the USS America at Portsmouth in October 1974 was this F-4J from VF-213, which displayed Carrier Air Wing 11 tail code letters and USS Kitty Hawk titles.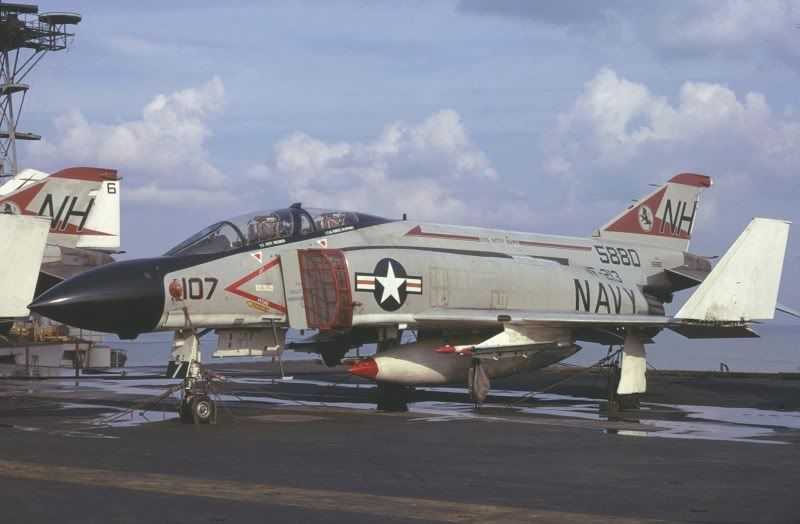 Four Navy Reserve squadrons eventually flew variants of the Phantom, including VF-301 which was normally resident at Miramar. One of their F-4Ns is seen in October 1975.
Point Mugu was home to VX-4 which included this F-4J in its varied complement in October 1975.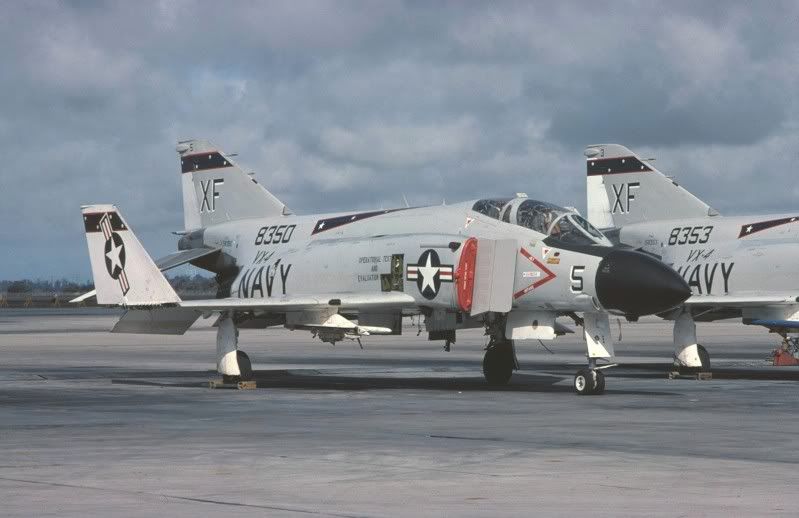 This was one of two aircraft that were modified to EF-4J standard for service with VAQ-33, which provided ECM training for elements of the fleet. It was photographed at Key West in February 1981...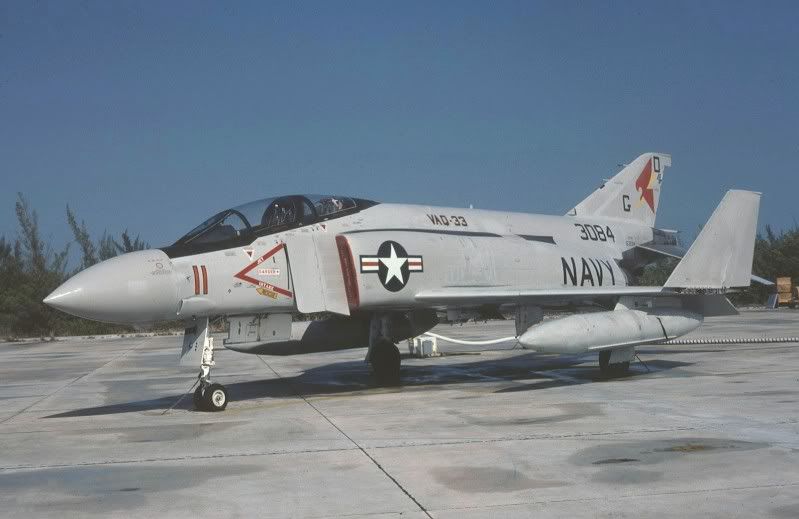 I'll finish off with a couple from the Naval Air Test Center at Patuxent River. This organisation operated examples of most major sub-types and some of its aircraft were very colourful and also highly modified. Seen at Pax in February 1975, F-4J 153077 features typical high-viz markings of the era and also has a much extended pitot tube.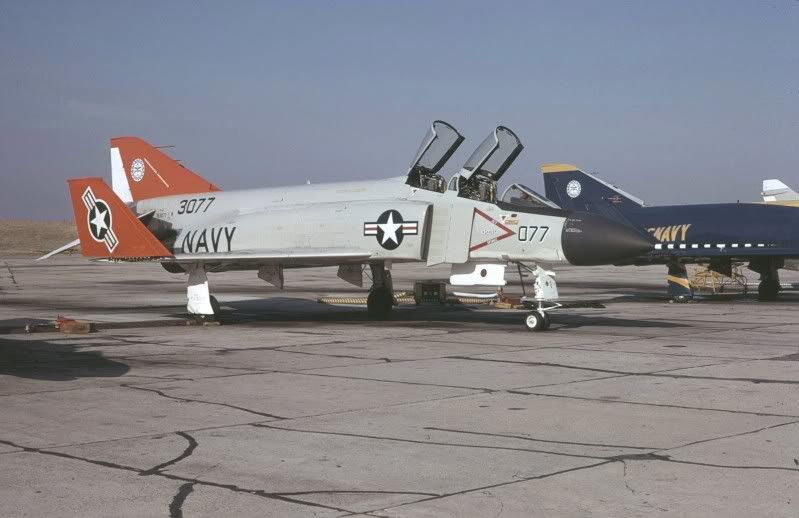 Finally, retaining its Blue Angels colour scheme, F-4J 153839's new ownership is confirmed by the presence of the NATC badge on the fin. This was also to be seen at Patuxent River in February 1975...