For the next one in this series, I thought I'd take a look at Oranienburg. This was the closest active base to Berlin and hosted a variety of helicopters, most of which belonged to the 239th Guards Helicopter Regiment, which operated a mixed fleet that included examples of the mighty Mi-6 Hook and the rather more commonplace Mi-8 Hip. Unfortunately, despite making several visits during 1992-94, I never managed to catch them on a flying day, although along with Chris Lofting I did succeed in gatecrashing a sort of party/open house/piss-up which offered a chance to get a few shots of resident Hooks and Hips in the air. Referring to the Google Earth image below, the Mi-8s were generally concentrated at the northern end of the base, with the Mi-6s on the dispersals at the southern end, very close to Wilhelmsthal. Some of the dispersals in the middle were occupied by weird helicopters of the 9th Independent Helicopter Squadron (OVE). It's also worth mentioning that a canal ran along the eastern side of the base and it was possible to drive over this to Wilhelmsthal - which provided good opportunities to get close to the Hook dispersal area - and by wandering along the canal bank you could get a fairly good view of the weird helicopters, though photography was difficult.
Just by way of an update, I took a look at Oranienburg on GoogleEarth yesterday and see that what used to be the runway is now the path for a sort of motorway... Bit reminiscent of what happened to Renfrew back in the early sixties. Some people have no soul!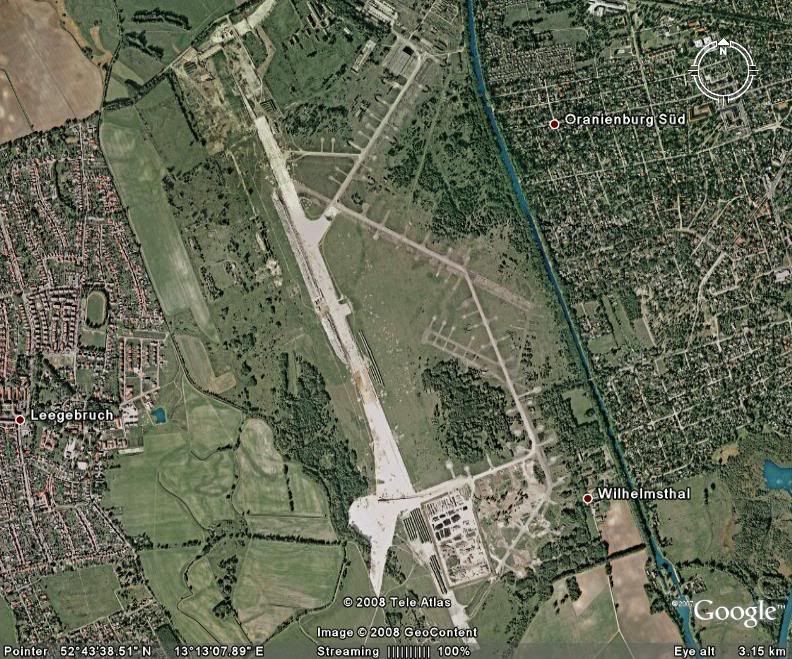 The first shot which dates to April 1992 shows a view through a farmer's field that lay adjacent to the dispersal. I never actually encountered this fellow, but by all accounts he was a tad anti-social and certainly didn't take kindly to photographers. As you can see, there is a double fence on the base perimeter...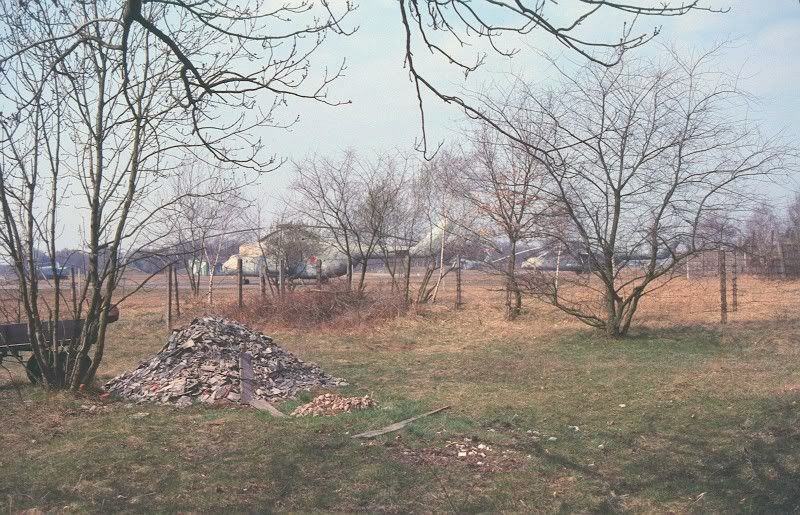 That first visit was somewhat blighted by being made on a fairly gloomy day, but I was able to get a few half-decent images of the resident Hooks, most of which were well and truly 'bagged', with cockpit covers in place. This didn't make for good photography...but hell, they were Hooks...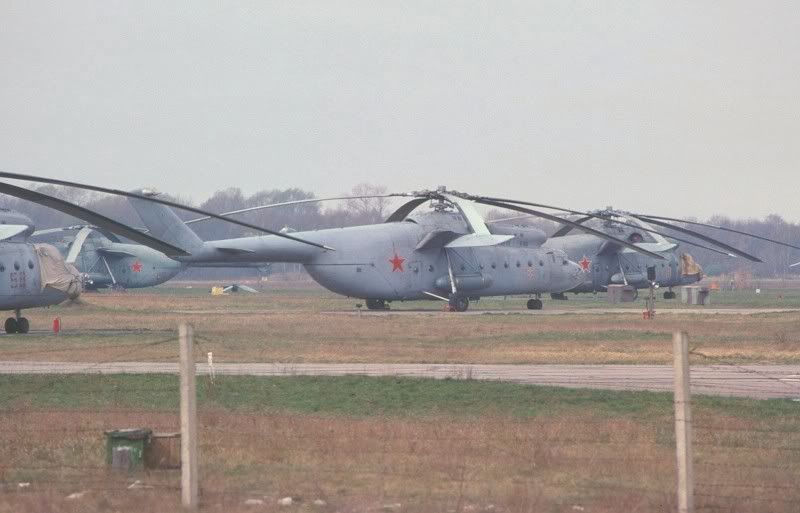 In the following year, the weather was much kinder and, wonder of wonders, the bags were no longer in evidence. By this time, we were also becoming a bit bolder with regards to photography and the next few images were all taken from inside the base, after discovering a convenient break in the fence line. First up is a general view of four Mi-6s at dispersal - which as can be seen was rather overgrown in places...with no attempt to remove the many weeds having apparently been made.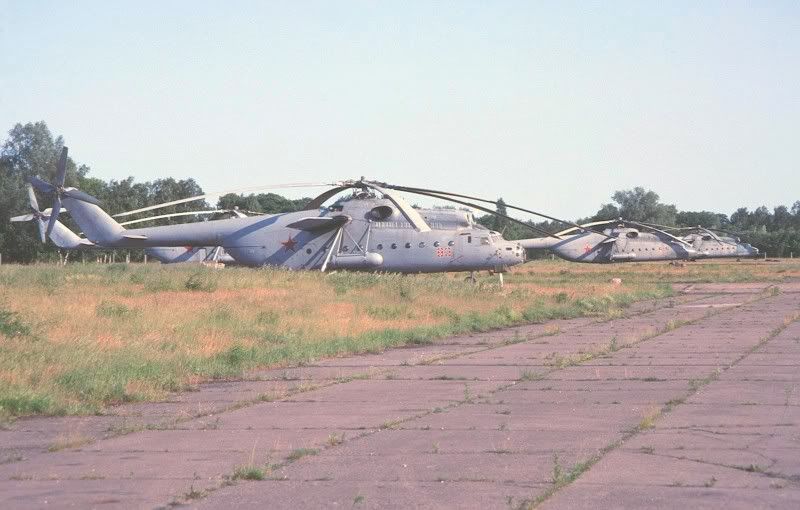 Next is Red 57 - with the perimeter fence clearly visible in the background. Needless to say, we were alert to the possibility of being collared and kept a good look out for vehicles, so there was a certain amount of to-ing and fro-ing whenever anyone seemed to be heading towards this end of the base.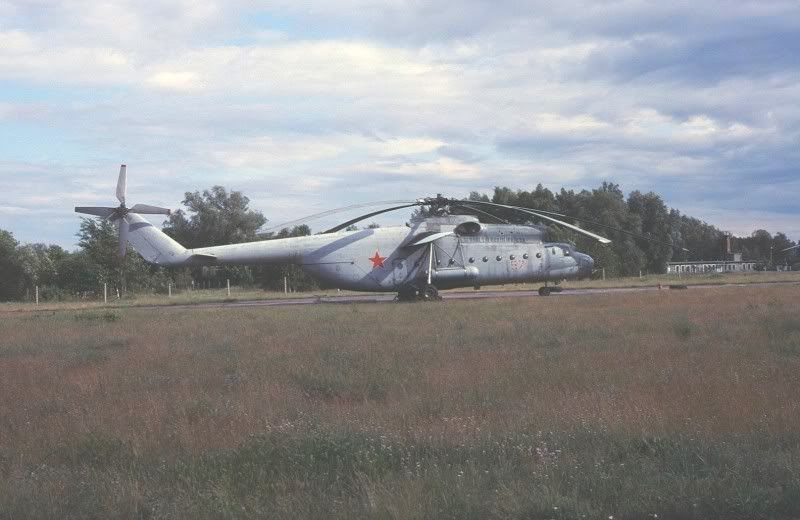 In between the occasional alarms and excursions, several of the resident Mi-6s were grabbed, including Red 80...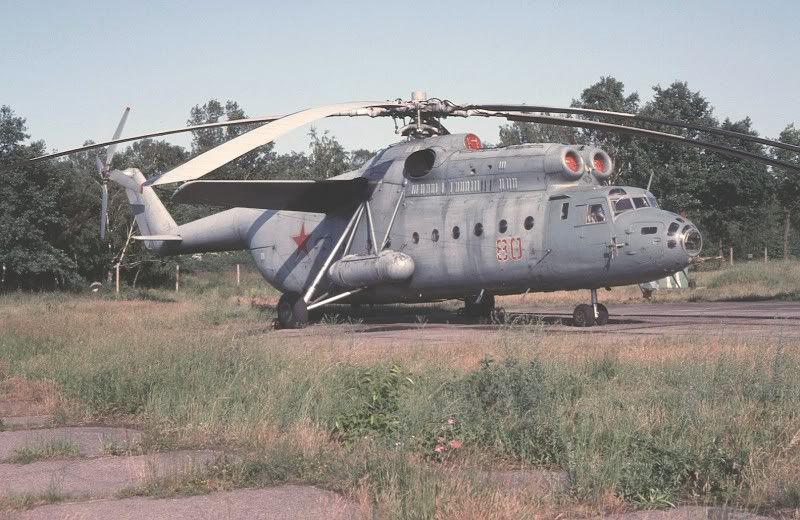 ...and Red 83. We did also encounter a Russian (while we were on the correct side of the fence, I should add) who for a modest sum offered to take us in to the base. We arranged to meet up with this guy the next day, fully expecting him not to turn up - but he did and this presented an opportunity to shoot some of the Mi-6s that stood a bit further out. Unfortunately, I think he was rather more twitchy about the situation than we were - and after about 20 minutes, he had evidently had enough anxiety for the day...ushering us out, despite earnest requests to go and shoot some more of the most distant ones. Ho hum - win some, lose some...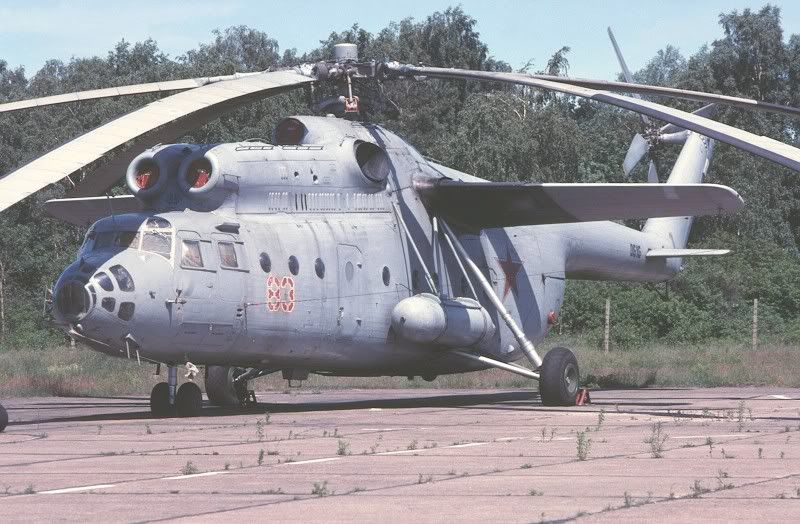 The next three images all date to June 1993, when Oranienburg held a sort of open day. Actually, open day is probably pitching it a bit strong - it was more like a families day and most of the Russians in attendance seemed more determined to have a good old fashioned knees-up in between consuming relatively vast amounts of alcohol. Somehow, Chris and I managed to weasel our way in and observe the proceedings. We did also ask for permission to shoot the helicopters as well as an escort while we were doing that - and were pretty much told to help ourselves. So we did, going for a good long wander along the based Mi-8s and venturing down to where the 9th OVE's weird helicopters lived. By this time, most of the really weird ones had gone, but there were still single examples of both the Hook-B and Hook-C command posts. The next shot shows Hook-B Red 02, complete with additional antenna around the rear of the tail boom.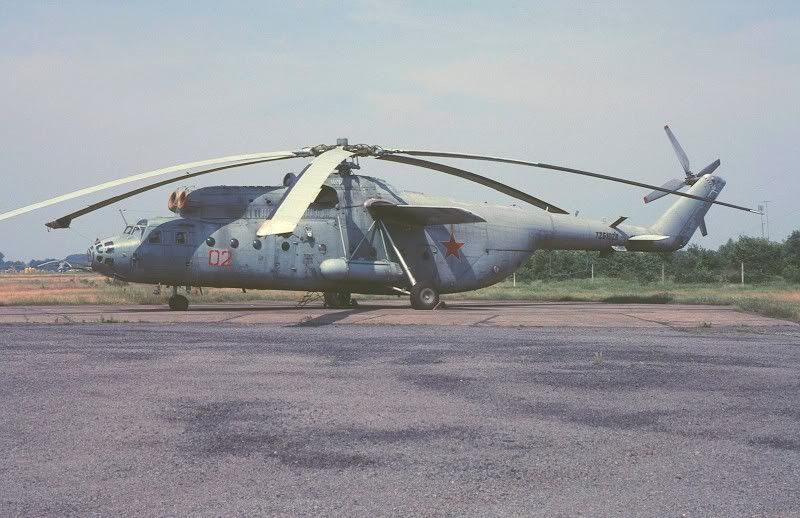 As part of the open house/families day/piss-up, a few of the based helicopters did venture aloft. These included two Mi-6s and both were duly photographed, with differences in colour scheme being apparent. Both of them also put on a brief demonstration of load-carrying, with the second shot showing one hefting an underslung load. Despite their great size, the Hook was surprisingly quiet - and made a noise that I can only liken to the sound of about a million insects in flight... A peculiar but quite unmistakeable sound - once heard, never forgotten...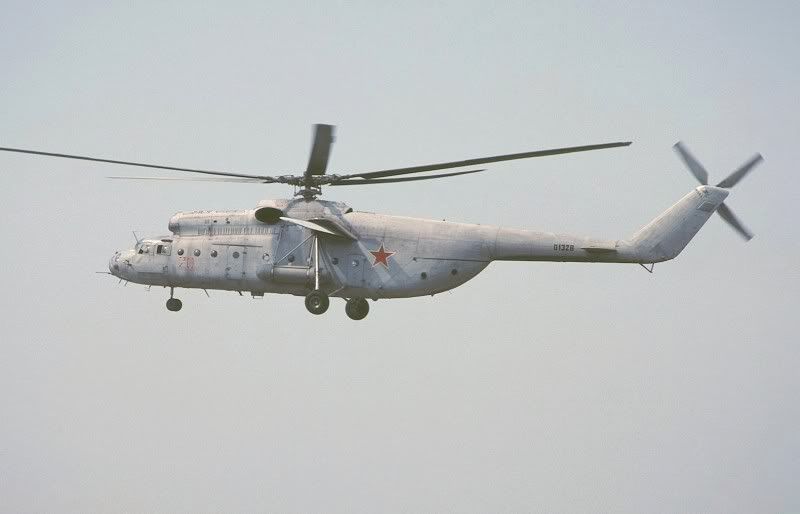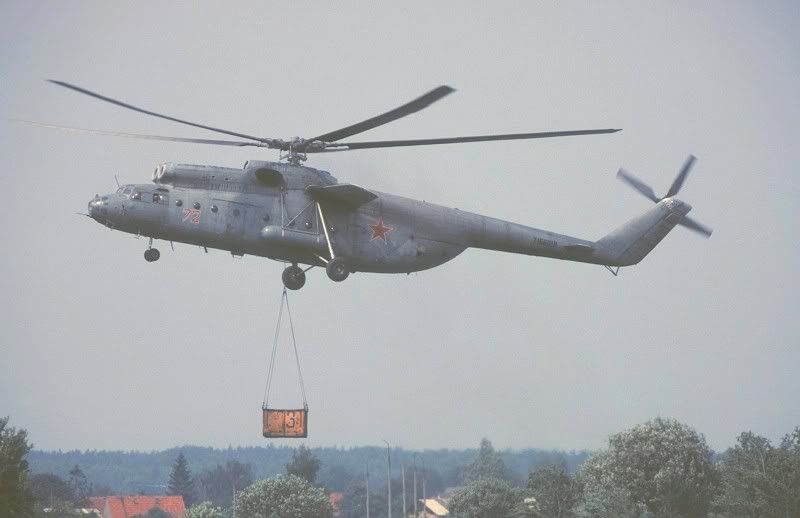 Winding back a year, the next couple of shots show examples of the weird Mi-8s that could be seen here. Photography of these was far from easy and was also seasonal - as both shots were taken from half-way up a tree on the canal bank. It was a precarious perch and securing a clear view also necessitated a certain amount of foliage removal. I wouldn't go as far as to call it flower-arranging D.P.Gumby-style - but it was sort of heading in that direction. Another visit made in the height of summer proved fruitless, for the foliage was just too dense and nobody had the foresight to bring along some secateurs! First up is a Mi-8PPA of the 9th OVE...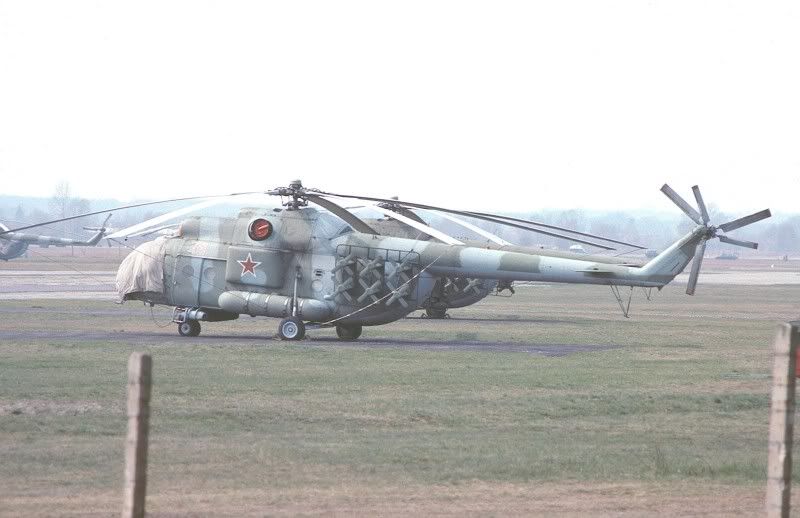 ...followed by an even rarer machine from an unknown unit, although it was parked with the 9th OVE helicopters. It is apparently a Mi-8KSA - and featured a cut-out in the aft doors through which something could be extended to hang suspended beneath the helicopter while in flight. I have no idea what it did - and didn't even realised I had shot an exceedingly rare beast until much later. As an aside, Chris and I did encounter what we think was another one at Mahlwinkel - complete with whatever it was deployed beneath the helicopter. Unfortunately, we had literally just turned up and weren't able to get any pictures.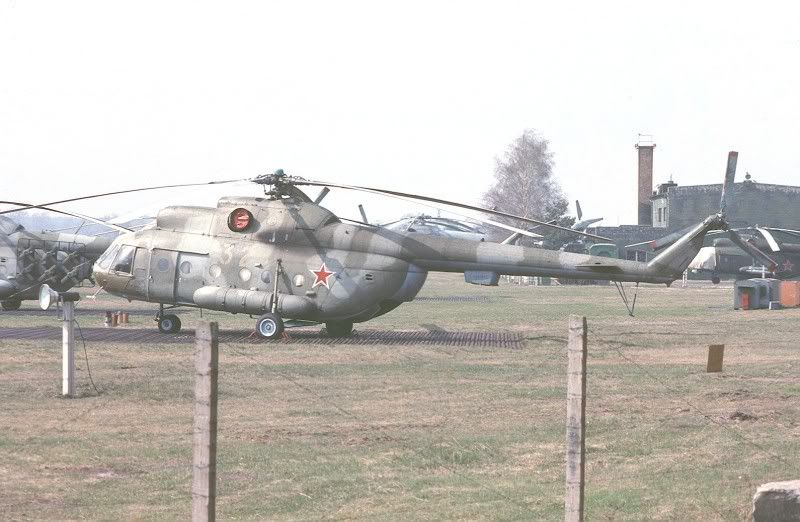 A small selection of the resident 239th Mi-8s follows. All were taken during the event that Chris and I gate-crashed. It was our intention to shoot every one we could get to, but after pottering around unescorted for more than an hour we finally came up against a stubborn Russian guard. He was probably pissed-off about missing out on the piss-up, but made it quite clear that he wasn't happy about what we were doing, while we were unable to convince him that we had permission. And, since he happened to have a Kalashnikov, we reluctantly withdrew... Anyway, back to the Mi-8s - as can be seen, these all featured red codes, but at least two different types of camouflage were in use.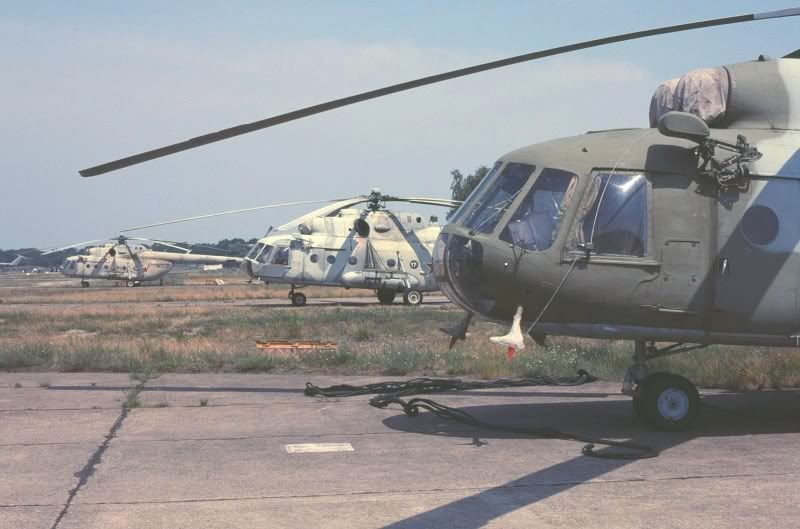 Mi-8MT Red 36 models the less common variation, which included brown and a sort of grey colour.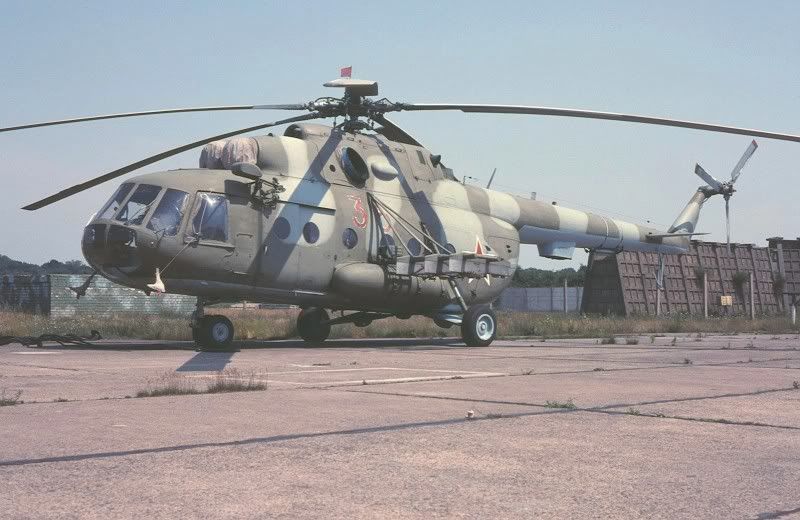 Mi-8MTVs Red 05 and Red 11 feature the far more commonplace finish - and both also feature flare dispensers and extra armour-plating around the cockpit, these perhaps being among the more visible differences between the Mi-8MT and the Mi-8MTV.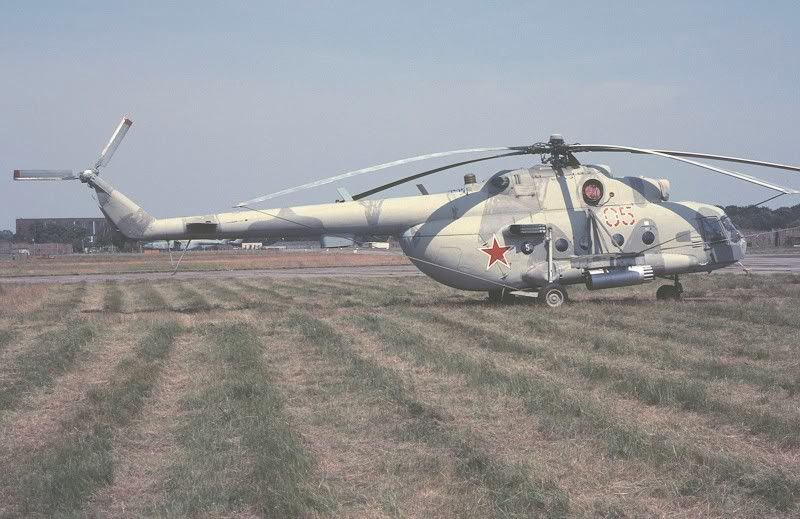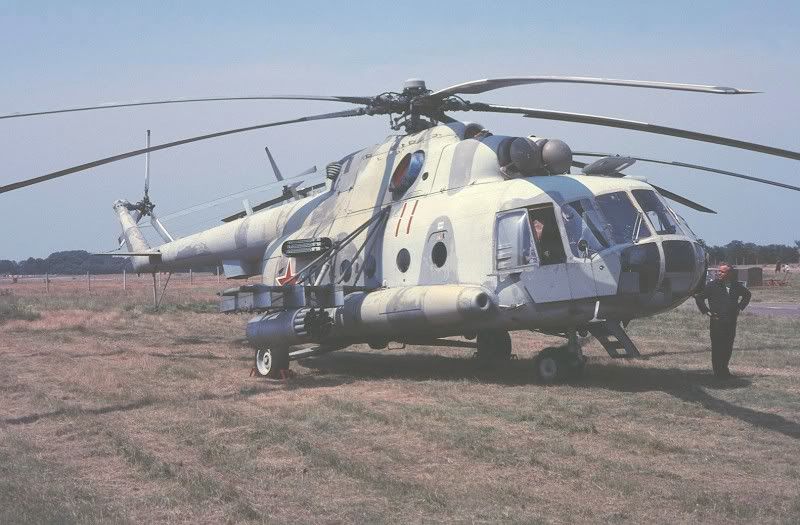 At least three Mi-8s also provided a small flying demonstration, with these including Mi-8MTV Red 33, which put on a very spirited performance as I recall.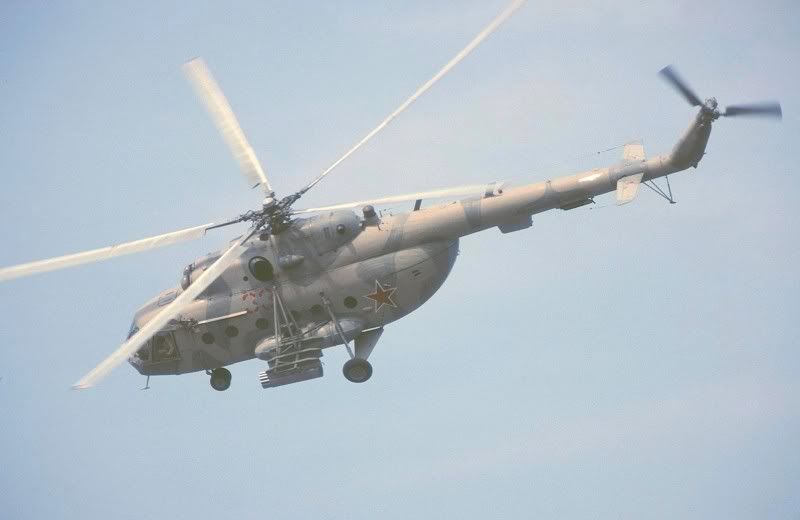 Parked close by the Hook-B and Hook-C hard-standing was Mi-8 Red 16. This may have belonged to the 239th, although I rather doubt it, as it was sitting off by itself and was of a much older vintage. It is possible that it was attached to the 9th OVE.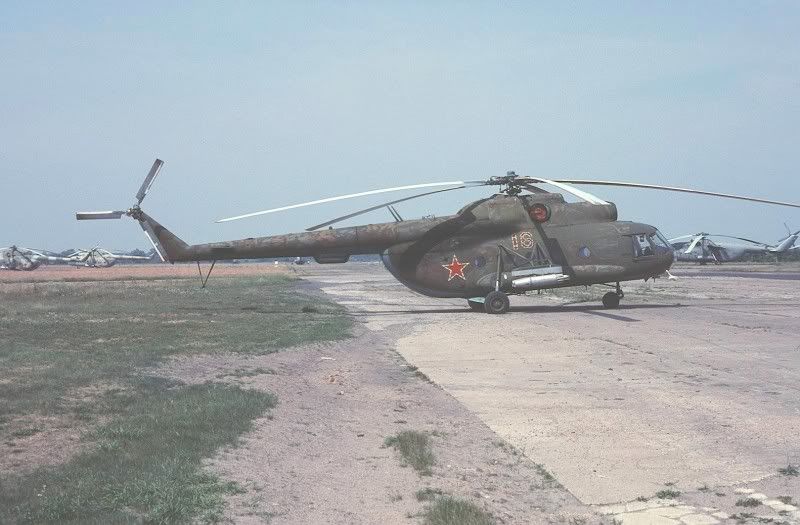 The final two helicopters were definitely on the strength of the 9th OVE, which had a total of four Hinds, although it seems that only three remained in June 1993, when these shots were taken. First is Mi-24RCh Red 40. This version was employed for NBC analysis and was usually fitted with a sort of grab device on the endplates of the stub wings, although these had been removed for some reason. Another visible indicator that it is an Mi-24RCh is the protuberance below the '4' of the code - this extended down to drill into the ground and take earth samples for analysis. The 9th OVE would have had two Hinds in this configuration...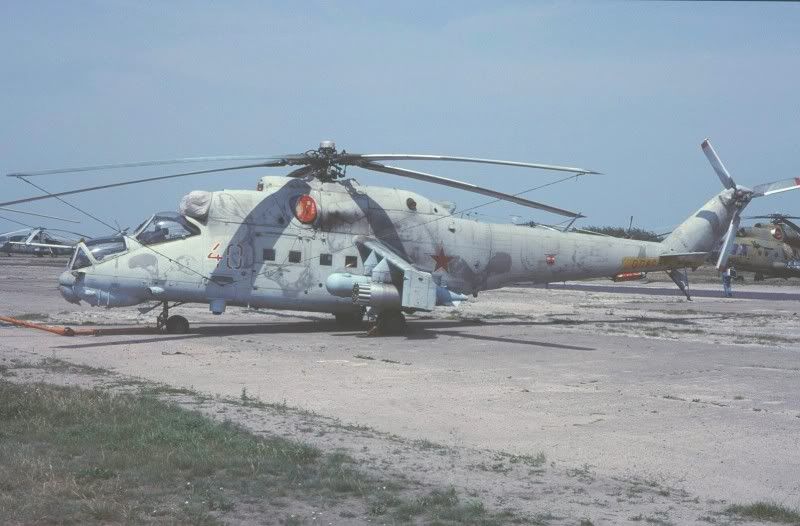 ...as well as two examples of the Mi-24K version, which was apparently used to monitor artillery shooting and provide corrections to gunners on the ground, utilising an optical sensor that looked through the unusual oblong window that can be seen below the exhaust nozzle.