Situated to the south of Berlin, Sperenberg was the gateway to Germany for elements of the 16th Air Army and was the main transport base. It was also largely surrounded by forest, although the area to the south of the base was much more open, being littered with remnants of silver birch and other trees. If I had to liken it to anything, I'd say it was reminiscent of that scene in the Scottish play where the three witches are crouched around a steaming cauldron, busy concocting some noxious brew and uttering weird chants about newts and frogs and the like… It was certainly what I would describe as a 'blasted heath'.
In most other regards, it was a bit like Mildenhall is today, in that there were long periods of inactivity, with little moving – and I can recall spending many boring hours sitting in sweltering heat waiting for something – anything – to happen. Despite the boredom, Sperenberg was home base for a quite interesting selection of resident aircraft and helicopters, including examples of the An-12, An-24, An-26, Tu-134, Il-20, Mi-6, Mi-8 and Mi-24 – some of which flew from time to time. In addition, Aeroflot Il-76s and An-22s were frequent visitors, along with occasional Il-18s and/or Tu-154s on the daily mail run from Moscow. Towards the end, as the pace of withdrawal accelerated, the number of visiting transports increased and included much rarer An-12s from Rostov.
Photographically, it was pretty good. Actually, in many respects, it was quite excellent, but first you had to find the place and that was by no means easy. It was about two miles west of the village of Sperenberg, but getting to good vantage points on the south side of the airfield meant leaving the main highway and heading down a succession of sandy tracks, with the ever-present risk of bellying the car and having to dig it out. When it was dry, it was difficult – when it was wet, it was a different ball game. A group I was with got well embedded once and it wasn't a whole bundle of laughs – we didn't have a shovel and ended up using bits of wood and other stuff to clear the sand away, plus lots of shoving and pushing to get it free again. On another occasion, Chris and I came to the assistance of a German guy who was taking a short cut and who succeeded in getting his motor well and truly stuck in wet sandy soil. In the end, we drove him to a farm where he was able to arrange for a tractor to come and tow him clear. While waiting for the farmer to pitch up with his tractor, we gave him a beer and carried on photographing a Mi-8 that was using the nearby 'hopping pad' for some press-ups. It was all a bit surreal…not a bad way to finish though, as it was the last time I visited Sperenberg, though Chris went back for the last hurrah.
If you approached from Route 101, which lay to the west of the airfield, the distance was even greater – about two-and-a-half miles as the crow flies to the runway end, but nearer to four miles by the time you messed about on all the tracks. And there were loads of those that could have caused you to get well and truly lost. In the end, we resorted to putting markers down, such as a Fanta bottle ("take the right fork at the Fanta bottle") in order to be certain of going the right way.
Once you arrived at 'Position A', it was then a case of settling down and waiting…and waiting…and then waiting some more. But, when something moved, picture opportunities were superb. Departing aircraft were usually still quite low if leaving in a westerly direction and could be shot comfortably with a 200mm lens, while anything on the runway was up for grabs, irrespective of whether it was arriving or leaving. To do that required going through the remnants of the fence (single or double layers of barbed wire that was in an appalling state of repair) and strolling out towards the threshold until you were close enough to shoot things like An-12s on 135mm telephoto. Nobody seemed too disconcerted by this and I recall seeing one guy in the tail gunner's position on an An-12 waving at us as it began its take-off roll.
Self-guided tours of the An-12 ramp were also undertaken towards the end and on one occasion Chris and I were looking forward to getting some well-lit shots on a sunny evening, only to find a white Transit van backed up to the fence at the spot we had chosen for illicit entry. On our side of the fence was a throng of villainous-looking Turks – on the other, a rabble of Russians. Neither group seemed terribly pleased to see us. Close by, an An-12 had the rear ramp open and large cartons were being transferred from that to the Transit – Marlboro cigarettes, I believe, but we didn't hang around to check, departing very swiftly and returning the next evening when all was quiet and we were able to go about our business undisturbed. Unfortunately, it wasn't quite such a fine evening…
If you really wanted to push your luck, you could also get close to the pair of Coots and the Tu-134 that was used as a personal transport by the chief of the 16th Air Army. Such exploits were 'interesting' to say the least, as well as being a tad nerve-racking, but Chris and I never encountered any problems, although one friend was caught and taken for a ride towards Zossen (Air Army headquarters). As far as I can recall, he didn't end up actually going there, but probably endured some anxiety before his passport was returned and he was told to clear off. At least one other car was vandalised by Russians who succeeded in getting the sun roof off, although I think the owners returned before anything was stolen.
It was while engaged in a spot of 'fence-busting' that Chris and I heard the sound of people blundering through the undergrowth. Our first thought was that it was probably Russians searching for us, but it turned out to be a couple of Dutch enthusiasts who had parked their car about a mile away and set off for a nice stroll through the woods in search of An-12s. Both were wearing shorts and t-shirts and a lot of the noise they were making was generated by the clouds of biting insects that infested the area. At least one of them was well and truly bloodstained from his efforts to brush away the mosquitoes that were indulging in a spot of supper…
Anyway, to the images… The first is a GoogleEarth image that isn't the best – but should give a pretty clear idea of the layout. I have annotated it, so you can see where the various resident aircraft lived. A dirt track 'road' (if I can call it that) ran all the way along the south side of the airfield close to the perimeter fence (or what was left of it) but it was almost impassable near the helicopter hopping pad, which is where the German guy got stuck. Most of the time was spent parked up in the area of position 'A'.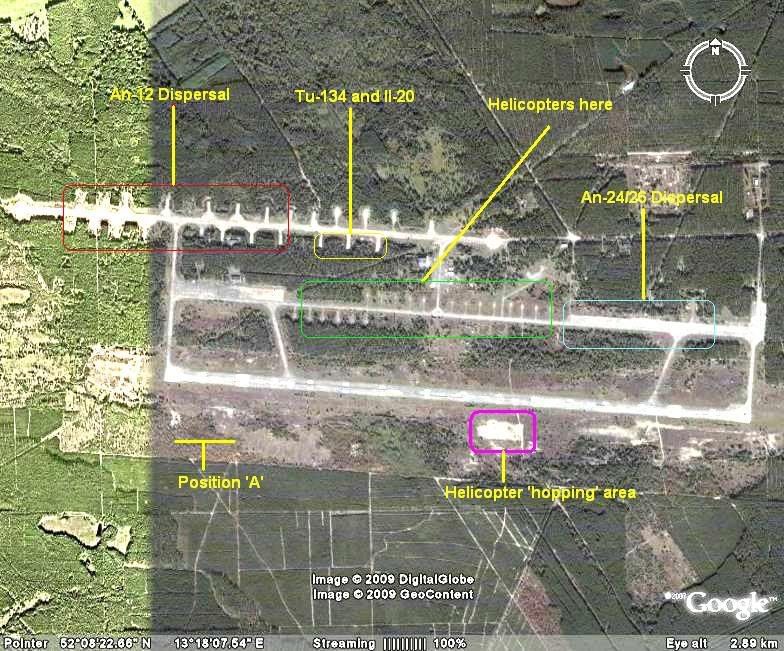 Position 'A' – waiting for action in June 1993… Not the most beautiful of spots and certainly not conducive to a family picnic… Perhaps the worst aspect was that there was little shade and I recall it was swelteringly hot that day, but an upturned table provided some relief for one of our number, while Chris sought refuge in the hire car, which, as you can see, was a mite dusty. The witches probably lived off to the right, out of shot and certainly had plenty of fuel for their cauldron...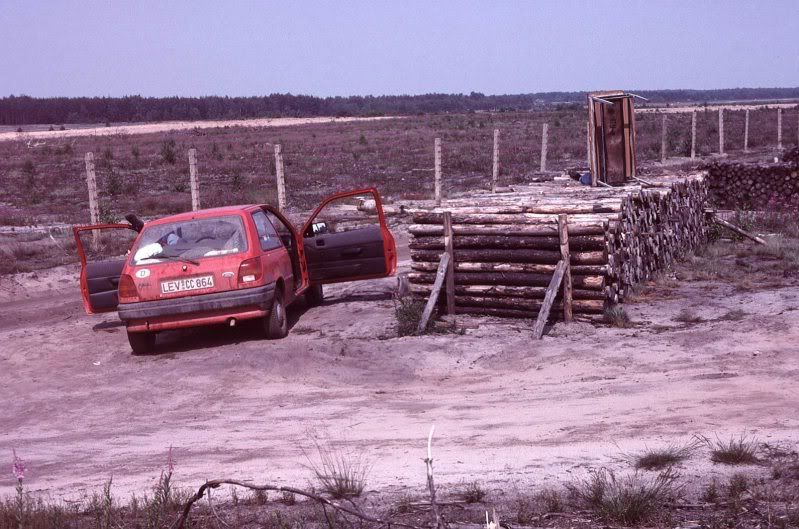 The German guy looks on while a local farmer prepares to tow his stuck motor out by tractor in April 1994.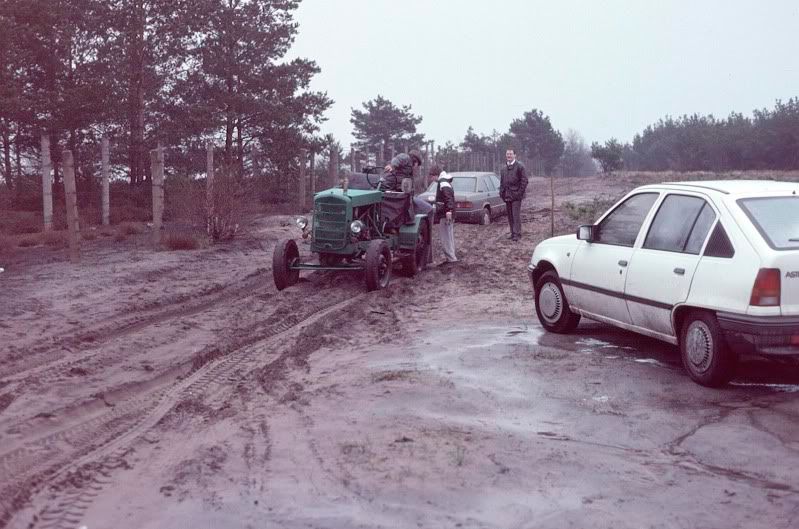 One result of a self-guided tour in June 1993. An-12 Red 92 of the 226th Regiment tucked away on its hard standing in the woods.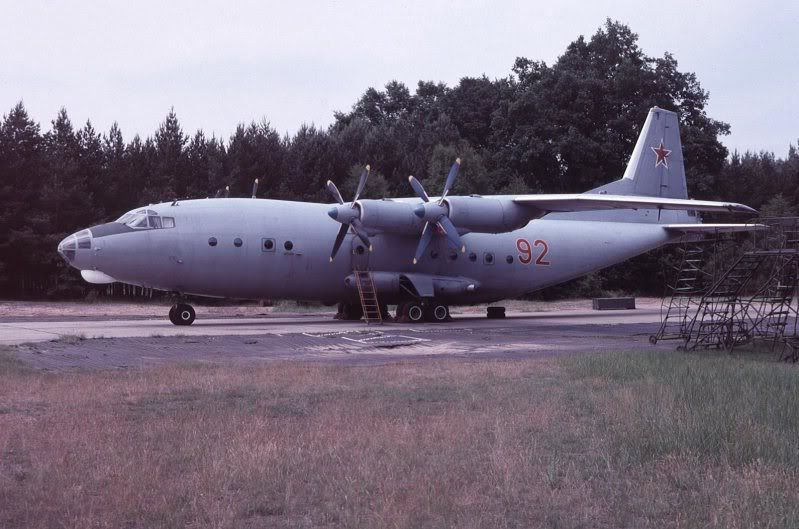 Delving deeper into the base in June 1993, Il-20 Coot Red 20 at dispersal.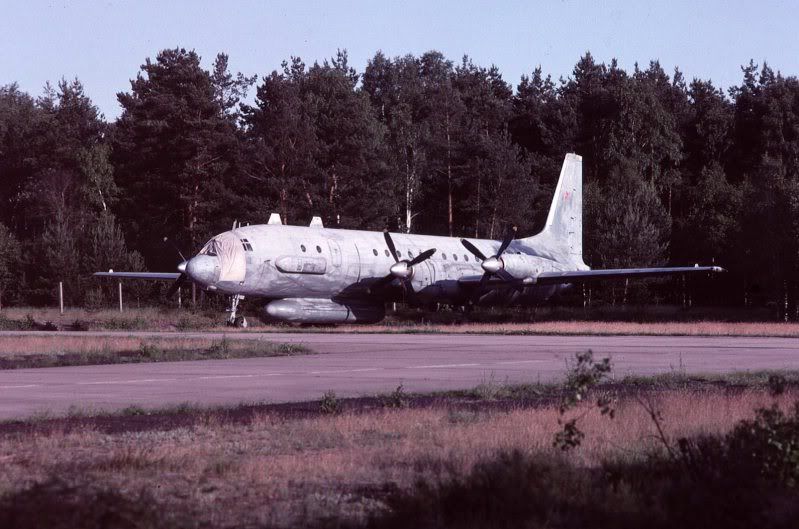 Sperenberg was home base for a couple of Coots, although they rarely seemed to fly, but I got lucky in April 1994, when Red 21 departed for a fairly short mission.
This is just a taster and there's more to come, so watch this space…