There are people that complain about the entrance charges for Shuttleworth's air displays at Old Warden and the cry of 'same old, same old', but there have been many changes there over the years and one day that aircraft you have been patiently waiting to get 'the perfect shot of' may be gone or repainted. Shuttleworth are aware that they need to refresh their collection with repaints and the occasional buying and selling of certain aircraft to keep the punters coming in these hard times. I have to admit that I have good shots of everything there and am reluctant to return until something changes...and the next change will be the arrival of the Grumman Wildcat, which I eaglerly await. Meanwhile, I thought some of the young whippersnapper digital wizzkids would like to see what they may have missed over the years when some of us were taking exposure meter readings, buying expensive Kodachrome slide films, focussing and framing our shots to capture the Shuttleworth gems in days gone. I first visited Old Warden on 16th October 1965 and was a teenage schoolboy, yet arrived in style in the back of a friend of my father's Austin Healey sportcar. It was cold, grey and overcast (nothing changed there!) but I was greeted by a rough field with cow pats in it and apparently they just cleared the field of cows on flying days to convert it to an airfield, but the cows (or was it sheep?) were important to keep the grass down. I was only taking b/w photos then with my father's Agfa camera with 2 1/4" square negs on roll film, which were pretty poor and not worth putting up here. However, I returned two years later in 1967, to mean business with a 35mm Braun Paxette camera and a whole roll (36 shots) of Kodachrome II film.
The first aircraft to greet you inside the gate were Spitfire PR.II,PL983 and Sea Hurricane Z7015, both of which seemed destined to remain static exhibits for ever.
The Spitfire, as you know, was sold and restored to airworthy condition, only to sadly claim the life of Martin Sargeant when it crashed in France.
When I first saw the Sea Hurricane it was in a strange glossy two-tone brown(I think?) camouflage, but for some reason I don't have ashot of it in that colour and the next time I saw it, it had been repainted in the colours shown here in 1970. Incidentally the tail hook had been removed and stored, making it look like a standard RAF Hurricane I guess.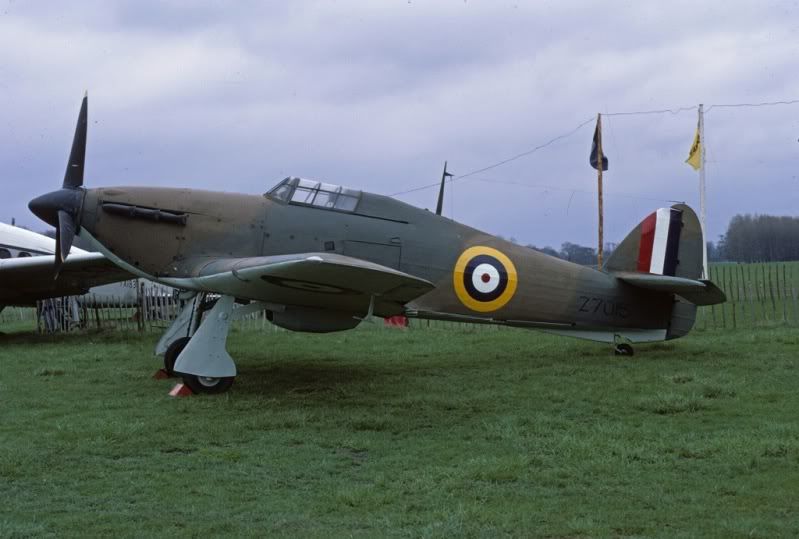 In 1967, the Avro 504K had a dark green fuselage and was given the serial 'E3404'. Note the 'crowd barrier' comprised a single rope and check out all the period cars in the car park.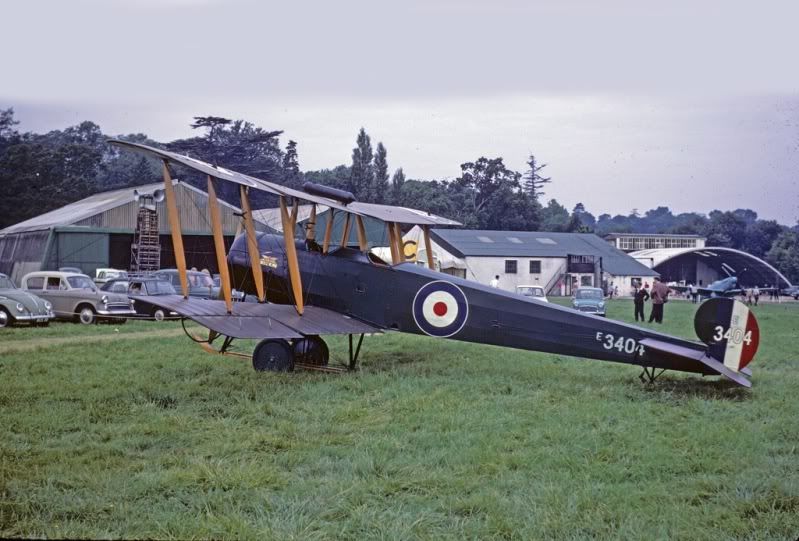 In those days, the Tomit was in Hawker's company colours of dark blue and gold and registered G-AFTA
Seen in April 1968 is Jean Batten's Percival Gull, G-ADPR, since sold and now hanging in Auckland Airport's terminal, New Zealand
In 1968, Shuttleworth also acquired Anson C.19, TX183, formerly with the A&AEE Handling Squadron at Boscombe Down.
They bizzarly fenced it off half way down the fuselage so you could look inside but go no further forward.
The Anson was later sold as it was deteriorating being permantly outside, but has now been fully restored as a Gulf Aviation airliner in the Gulf Aviation museum at Sharjah.
Who can remermber the Gladiator when it was serialled 'K8032' with 72 Squadron markings?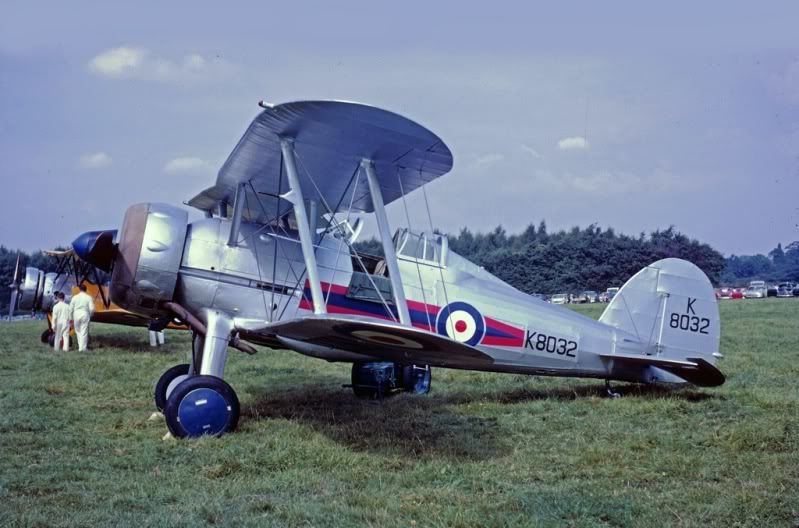 ...or when the Sopwith Pup was brown and serialled N5180?
..or when the Bristol Fighter was silver
...the loss of the Cierva C.30A Autogiro, sold to the USA and which which now hangs in Kermit Weeks hangar in Florida
Note the Gladiator behind has now had a repaint and wears its correct serial L8032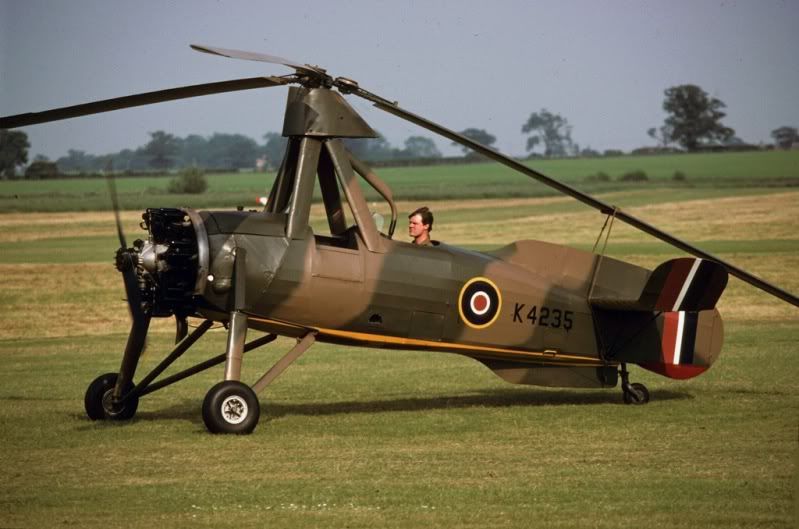 It must have been a shock when the RAF Museum asked for the LVG to be returned, as it had been on 'permanent' loan. It was wonderful to see a genuine WW1 aircraft kept flying, alas no more!
..the Hind in Royal Afghan Air Force colours
...and the Tutor when it was yellow
The next aircraft to emerge from a rebuild and repaint will possibly be the SE-5A. During the late '60s and '70s, I thought it
looked great with code letters and blue/white wheel bosses, but purists complained it wasn't accurate, so they were removed.