Everybody seems to like the RC-135 - so here a few images that show these aircraft at a much earlier stage in their careers, when they were basically natural metal overall (which I still think looked best on these machines) and had yet to undergo many of the modification programmes that were to follow. With the exception of the final image, which isn't (or, at least, wasn't) an RC-135 at the time, all of these shots were taken at Mildenhall in the 1970-72 timeframe. In those days, I don't think any of us who were frequently to be found lurking with cameras in hand outside the fence at the 'hall could have imagined that the same basic aircraft would still be around almost four decades later - but the RC-135 is still very much with us today, even if it now routinely parks in a very different and less photographically accessible place.
Those of you with long memories may well remember the pig farm that used to be located close to the end of Folly Road. By dint of taking the country air and enjoying a stroll around the perimeter fence, one eventually arrived at the aforementioned pig farm. A quick leap over the fence that prevented the pigs from going for a stroll of their own put you in a prime position to photograph a number of visiting 135s - most were bog-standard KC-135As from a variety of SAC Bomb Wings, but the various types of RC-135 were also frequent sights at this spot. When parked close to the fence, they could be shot on standard lens, with aircraft on the farthest parking spots being almost perfectly placed for a small telephoto (135 mm was just about ideal).
This was in the days before a step ladder became an essential piece of kit, so it invariably meant perching precariously on a fence post, often on one leg and frequently with the aid of others in order to avoid overbalancing and falling off. As for the pigs, they seemed to accept it as normal and I don't ever recall anyone being attacked by an angry hog - although their natural curiosity often meant that some of them ambled across to say hello and see what was going on. It used to get quite crowded at times and inevitably resulted in a good deal of grunting - not all of which was attributable to the pigs, as it often required a certain amount of energy to climb on the fence post in the first instance and yet more to remain stable while taking photographs, which meant that there was often some human grunting as well. Oddly enough, the pigs seemed to quite like that...
Today, sadly, the pig farm is long gone - as are the asparagus fields that used to also provide a chance to get up close to the perimeter fence with a camera - one by one, all of the vantage points have disappeared and one wonders how long it will be before the mound at the eastern end of the base follows suit and becomes a denied area...
First up and taken from the pig farm is RC-135D 60-0356 in early 1971. This was one of three C-135As that had seen service with MATS prior to being modified to RC-135D configuration and assigned to SAC. The tail of another RC-135 is visible in the right foreground, while one of Mildenhall's based EC-135Hs can be seen beyond 00356.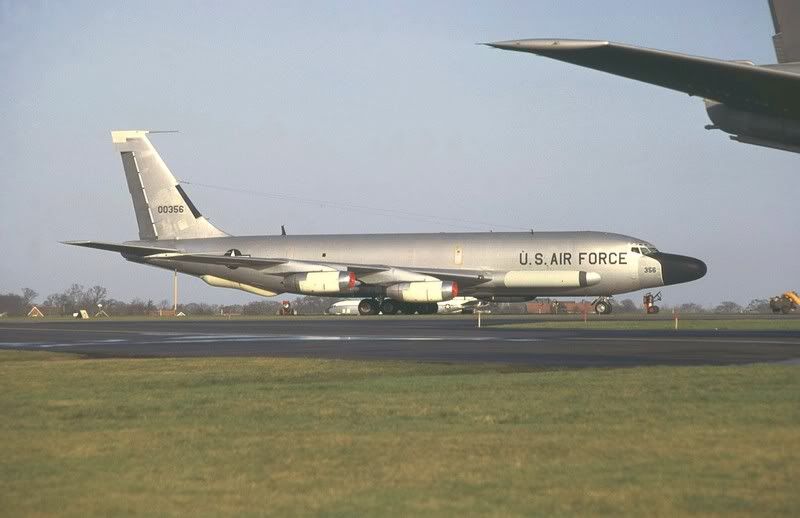 Another of the trio of former MATS aircraft that became RC-135Ds was 60-0357, on what had been a fairly misty morning in late 1970. The third ex MATS RC-135D was 60-0362, but I haven't included that here, although it was also often to be seen at Mildenhall.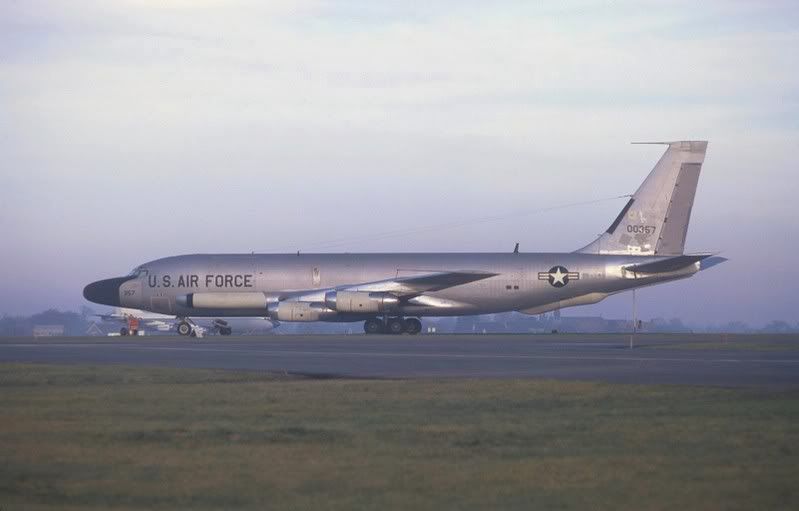 Looking absolutely pristine, 64-14841 (unusually marked as 414841) in its original guise as an RC-135C, without the hog nose that was added later. This is a standard lens pig farm shot taken in early 1971 - and amongst the goodies lurking in the distant background are three of Mildenhall's based EC-135Hs and a C-133 Cargomaster.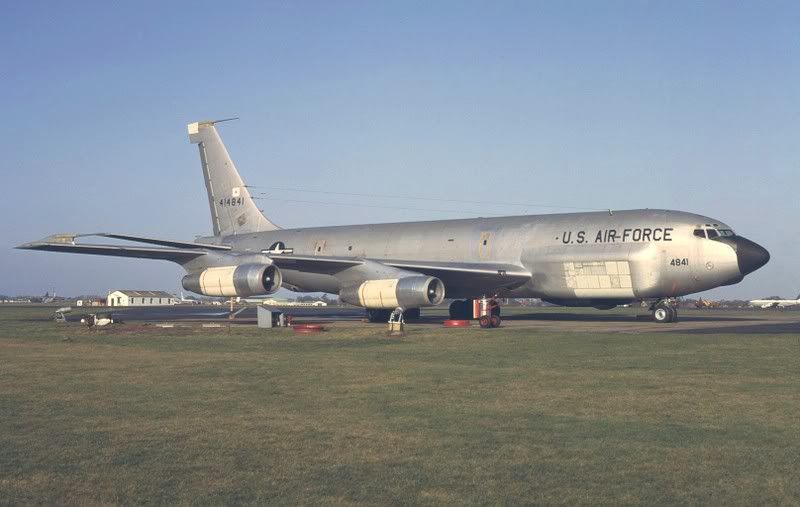 Although they were most commonly tucked away round the corner adjacent to the pig farm, the RC-135Cs did occasionally use parking spots that could be photographed from Folly Road. 64-14844 was occupying such a spot in late 1970 and positively gleams in bright winter sunshine.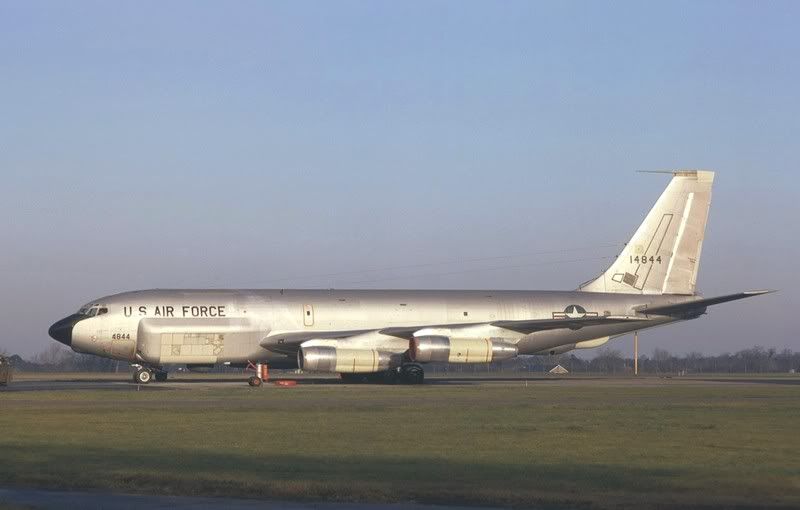 Even without the benefit of sunshine, the RC-135C still looked pretty good and 64-14846 was another example of the type that I captured on film in late 1970. This is again taken from the pig farm, but the large expanse of gravel in the foreground and the fact that I have had to chop the wing tip makes me think it was on a different parking spot to 14841 seen earlier and 14849 which follows.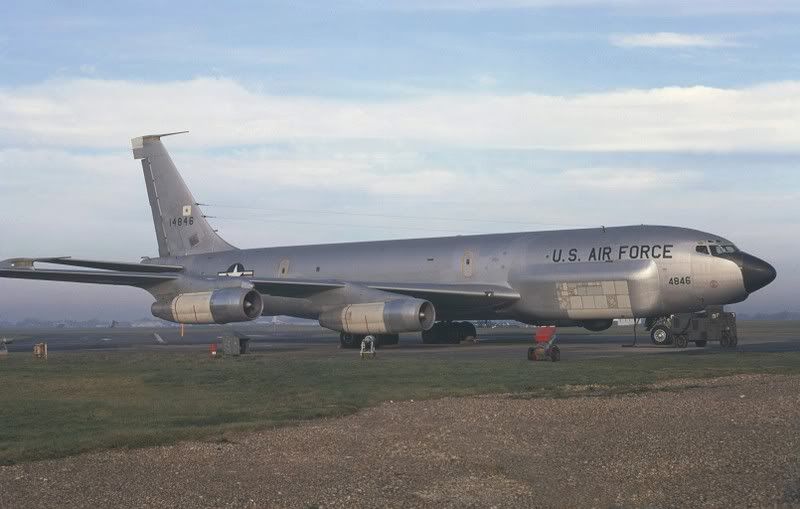 The RC-135U version was also no stranger to Mildenhall, with 64-14847 being a fairly common sight. This shot was taken (probably from the pig farm) on 13 January 1972 and it looks as if it was being prepared for a mission, judging by the open crew door and partly open cargo hatch. Once again, a resident EC-135H is visible in the background.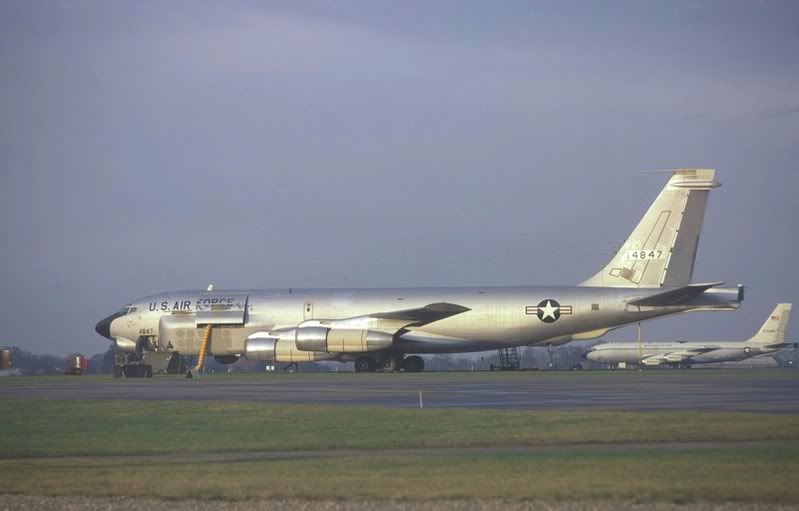 Still an RC-135C at this time, 64-14849 was captured on film from the pig farm in late 1970... I don't know if it's my imagination, but there definitely seemed to be more sunshine around in those days!!!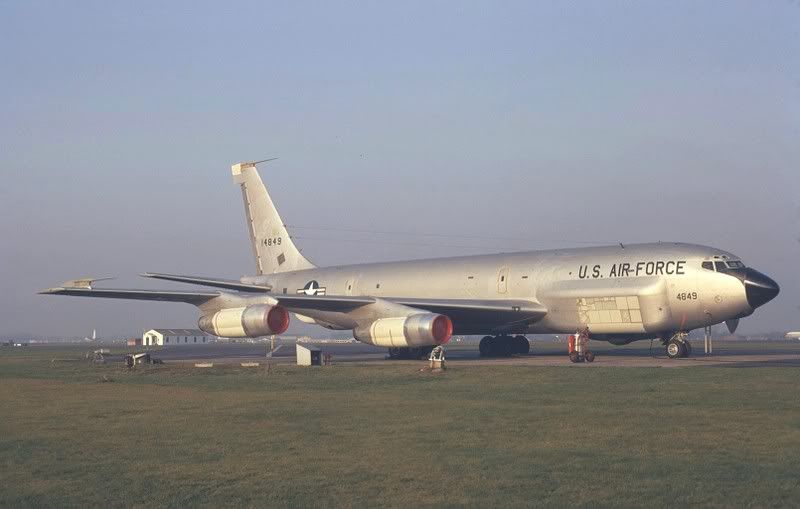 Some 18 months later, 64-14849 had been extensively modified and is seen here on 17 June 1972 in its new guise as an RC-135U, complete with numerous extra bumps, protuberances, bulges and antenna arrays. These include an extended tail cone, a bullet fairing on the fin top, a 'sugar scoop' at the nose and 'towel rails' above the fuselage chipmunk cheeks.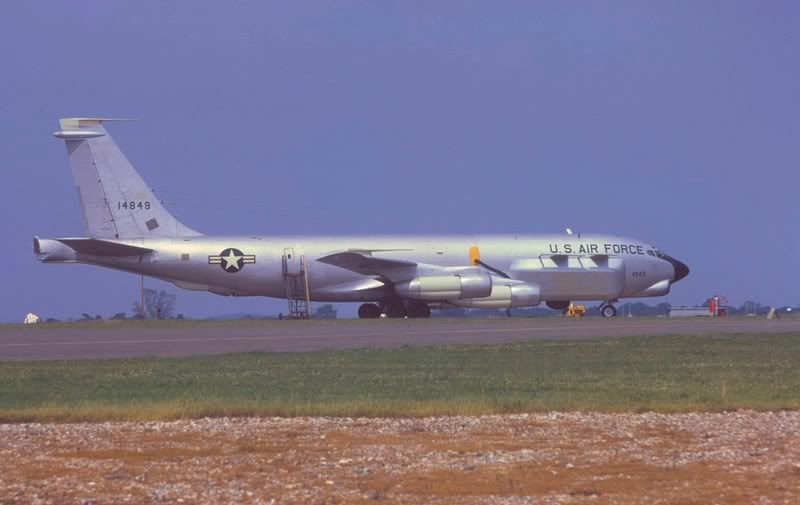 Going back almost three years, to November 1969, I make no apology for including 62-4125, which was shot from the crash gate at Pollards Lane. This is another former MATS aircraft that had been made redundant by the arrival of the C-141 Starlifter and modified to VC-135B standard, hence the very smart white and natural metal finish and prominent US flag. It was almost certainly assigned to the 89th MAW's VIP fleet at Andrews at the time. Today, of course, it is an RC-135W...and, as such, can still be seen coming and going from Mildenhall.