Following on from my previous posting of RC-135s and in response to request for more examples of Boeing's enduring product, I've delved deep into the archive and found the following selection of 135s in various guises. It's a bit of an arbitrary choice, but with well over 1,500 to choose from, it's difficult to know just where to begin... They are presented in serial number order, starting with the grand-daddy of them all...
EC-135K 55-3118 complete with Tactical Air Command insignia was an occasional visitor to these shores and was most often to be seen whenever a deployment of fighter aircraft ventured across the Atlantic. On this occasion, it was photographed at Mildenhall on a rather murky day in April or May 1972.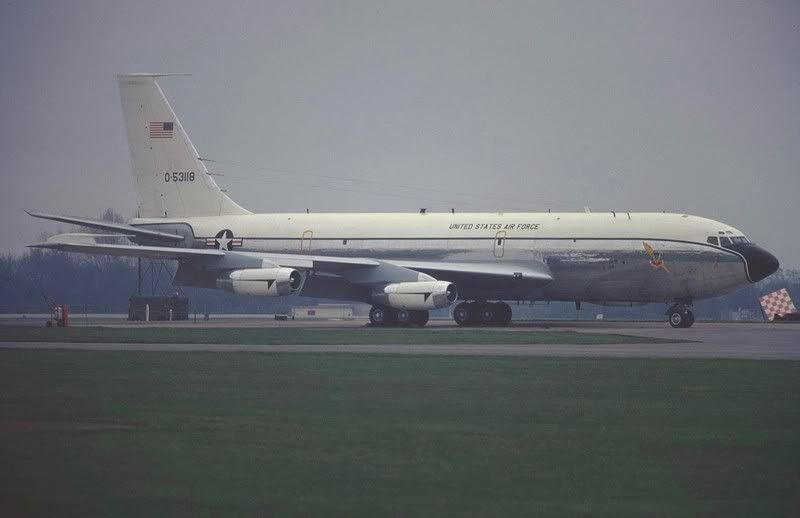 Displaying an Aeronautical Systems Division tail band, NKC-135A 55-3135 while serving with the Air Force Flight Test Center at Edwards in late 1978.
A bog-standard KC-135A in typical SAC finish at Mildenhall on 14 February 1971. Like many tankers, it displayed a SAC badge to port and a Wing badge to starboard, in this case signifying assignment to the 68th Bomb Wing.
One of a number of KC-135As that were modified to KC-135Q standard to support SR-71 operations, 58-0088 gets airborne from Mildenhall in traditional smoky style on 7 May 1982. At this time, it would have been assigned to the 100th ARW at Beale.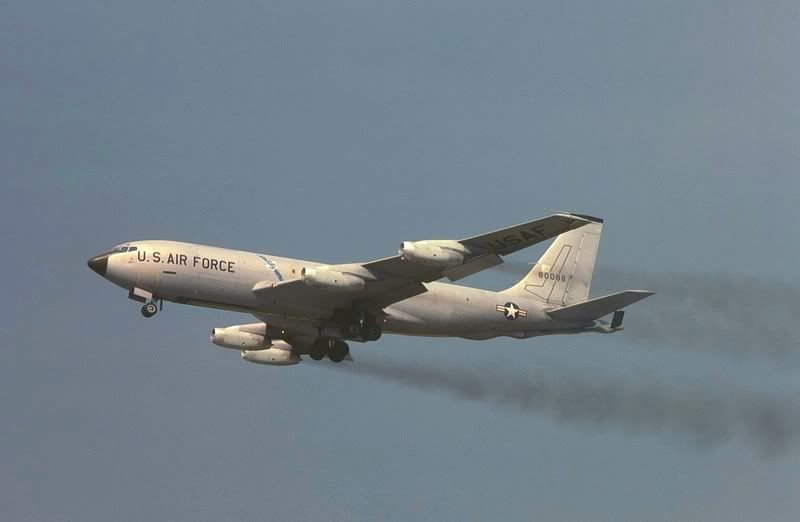 In March 1983, the 100th ARW was inactivated and ownership of the KC-135Qs that were resident at Beale passed to the 9th SRW, hence the fin adornment on KC-135Q 59-1474, seen here launching from Mildenhall in support of an SR-71 mission in December 1983.
Captured high above the eastern seaborad of the USA, New Hampshire ANG KC-135A 59-1509 trails its boom as it waits to refuel an F-106 from the New Jersey ANG.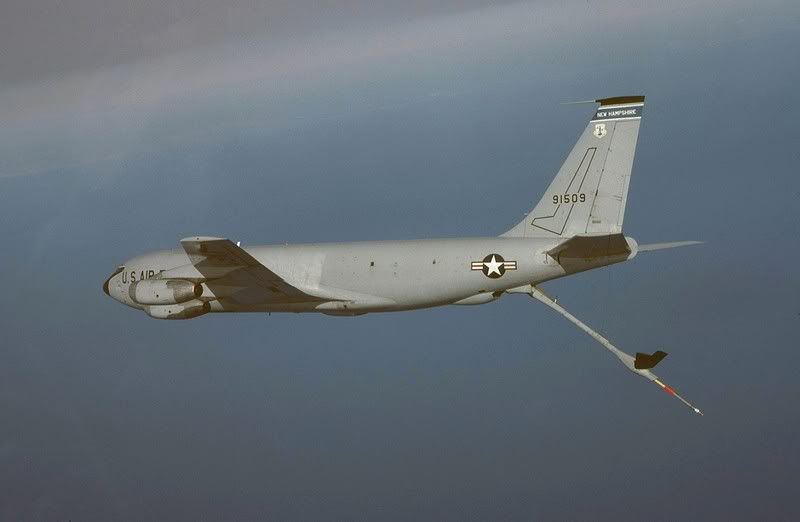 The second 'Head Dancer' EC-135K was 59-1518, caught departing from Mildenhall on 22 August 1980. Like 55-3118, it displays TAC insignia on the forward fuselage.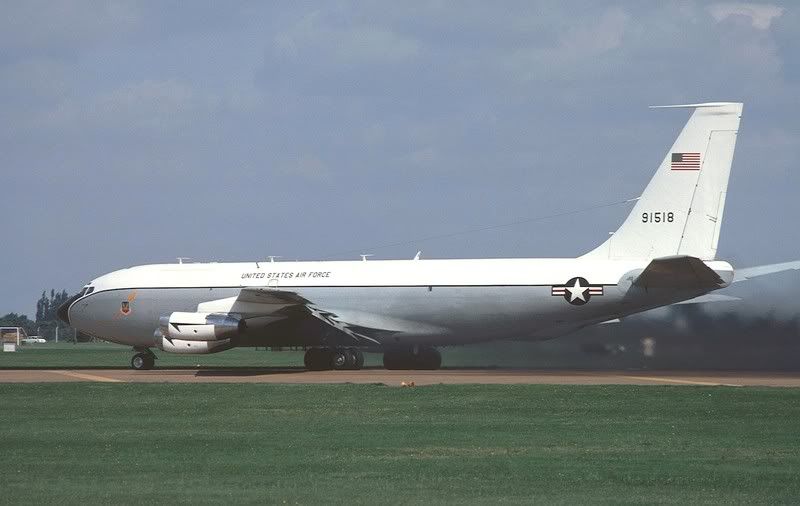 The handful of EC-135H command posts that supported USAFE were long-time residents at Mildenhall, where they arrived in 1965. 61-0274 is seen here backtracking for departure in February 1969, when it was assigned to the 7120th ACCS and still fitted with original J57 engines. A US Navy Expediter and C-131 are visible in the background.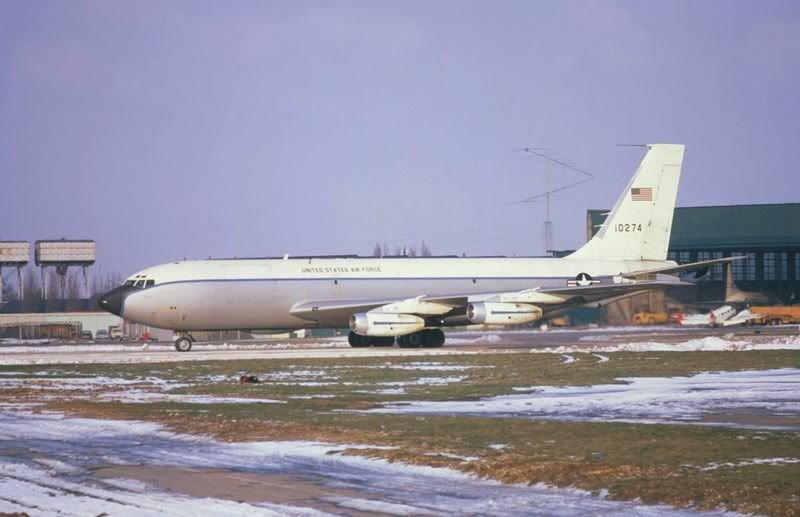 By February 1983, much had changed for the Mildenhall command posts, but they still retained the EC-135H designation. Featuring TF33 turbofan engines and having grown a number of bumps and bulges, 61-0282 was by this time assigned to the 10th ACCS, which replaced the 7120th at the very start of 1970.
I cannot now recall who had ownership of this handsomely marked KC-135A when I photographed it departing Frankfurt on 18 January 1969, but do know that it was damaged beyond repair by fire at Cairo in March 1985, while assigned to the 2nd BW for use by the commander of SAC's Eighth Air Force. It would certainly be wonderful to see some of the stuff in the background again...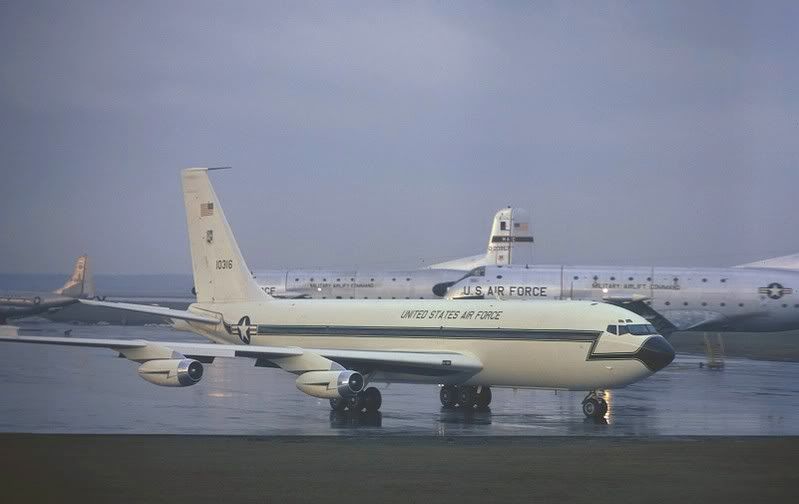 WC-135Bs of the Air Weather Service were regular visitors to our shores for many years, hence the inclusion of a trio of these machines. First up is 61-2666 at Mildenhall in about September 1971 - again, it would be great to see some of the stuff in the background again...but 12666 has been back quite recently - as an NC-135W.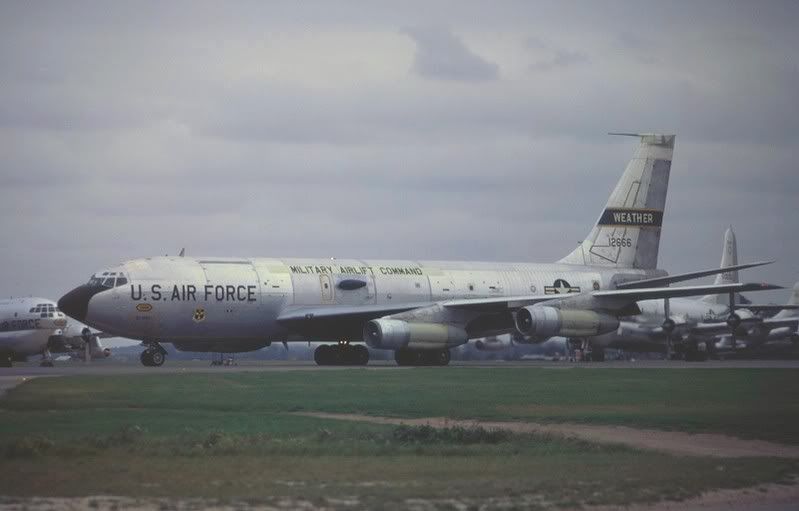 Not the best quality, I admit, but one of the first colour transparencies I took. It shows WC-135B 61-2667 on final approach to Mildenhall in early 1968. This aircraft has also paid a return visit to the 'hall very recently, but it looks very different now that it is assigned to the 55th Wing as a WC-135W
.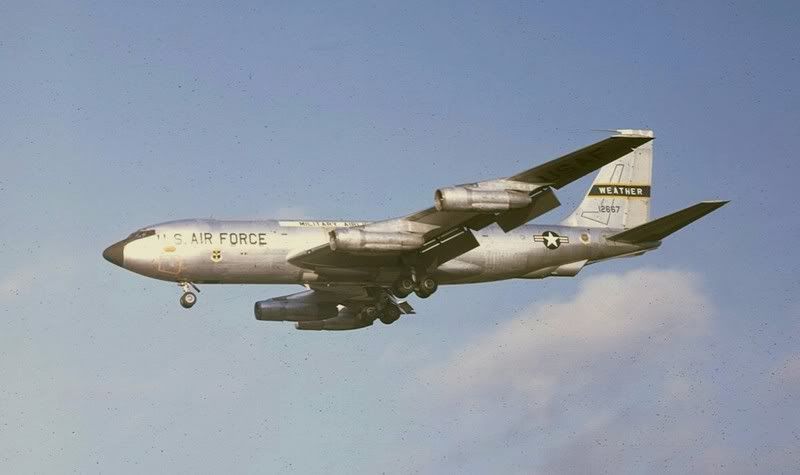 A surprise but most welcome item in the static display at Alconbury on 14 August 1982 was WC-135B 61-2674, looking extremely smart in a basically grey overall colour scheme. Later converted to OC-135B configuration for Open Skies missions, it is now in storage at Davis-Monthan.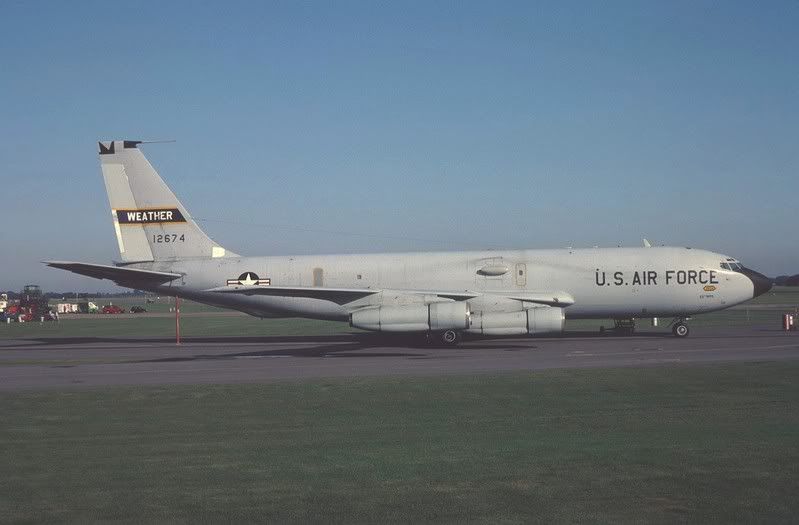 According to my notes, KC-135A 63-8020 was assigned to the 7407th Combat Support Wing and based at Frankfurt in the early 1970s. It was later converted to standard KC-135R configuration, but I doubt if it looks anything like as smart as it did when I photographed it at Andrews in September 1972.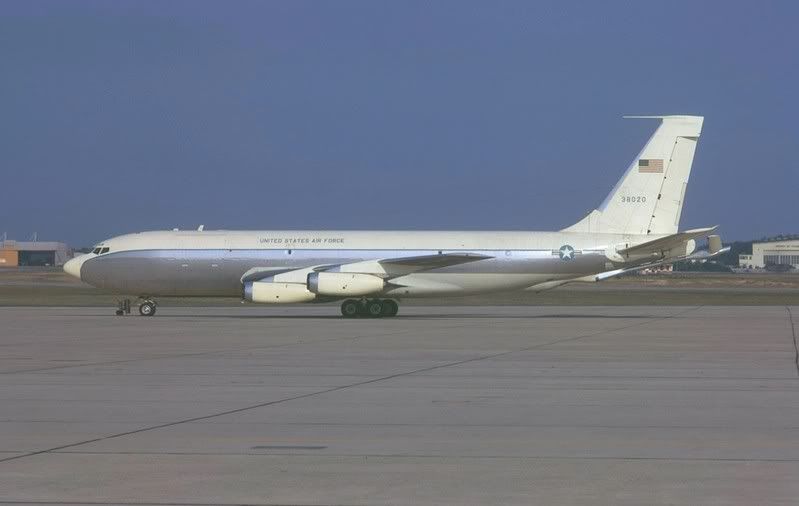 Next up are a couple of shots that may bring back fond memories to those who can recall the KC-135A and J57 combination. This often produced prodigious amounts of smoke on departure, exemplified here by 63-8037 accelerating for take-off from Fairford in September 1985. By this time, many tankers were adorned with fin-top insignia, this example carrying the black and white checks of the 305th ARW.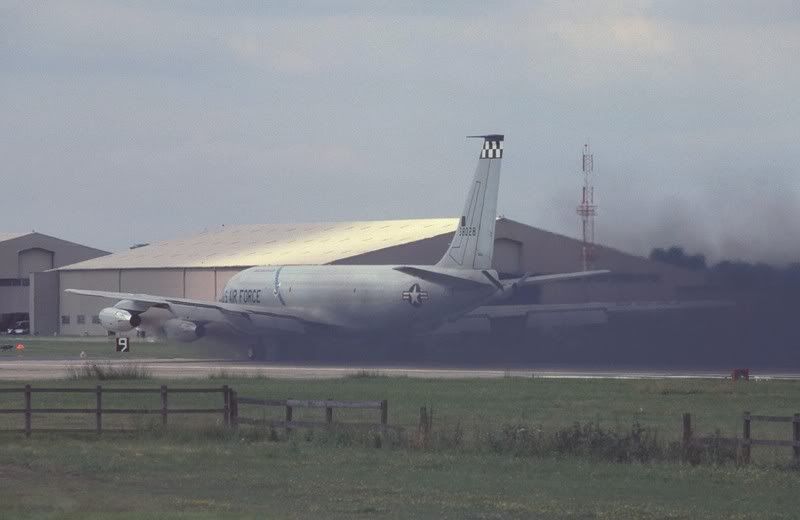 With much of Mildenhall obscured by smoke from a succession of departing KC-135As, 63-8032 of the 28th BW rolls out to follow. Mass departures involving several aircraft were an occasional event, most commonly happening when a group of fighters were deploying from or to the USA. They were invariably extremely smoky and noisy affairs and fascinating to observe.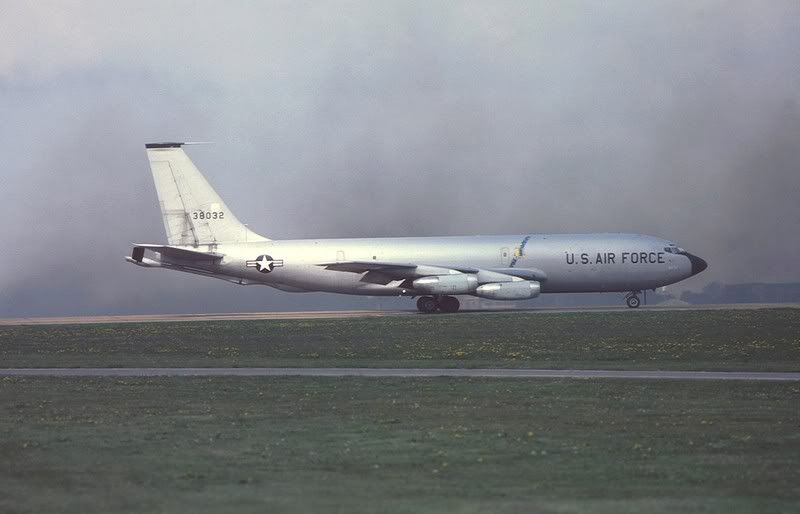 Last, but certainly not least, EC-135C 63-8054 of the 2nd ACCS on the flight line at Offutt in September 1978. This was one of the famous 'Looking Glass' command posts and would have performed its fair share of airborne duty complete with SAC battle staff throughout the Cold War.