05/09/2021 Update
It's been a one day weekend, as I had to do domestic duties today; the mumblings of such words as "lawnmower" required quelling at home. Anyway yesterday Laurence and I were in. My first job was to see if the nose had moved any. After a week to think about it, another liberal application of penetration oil, and another couple of "wiggles" from us, there is definitely daylight to be seen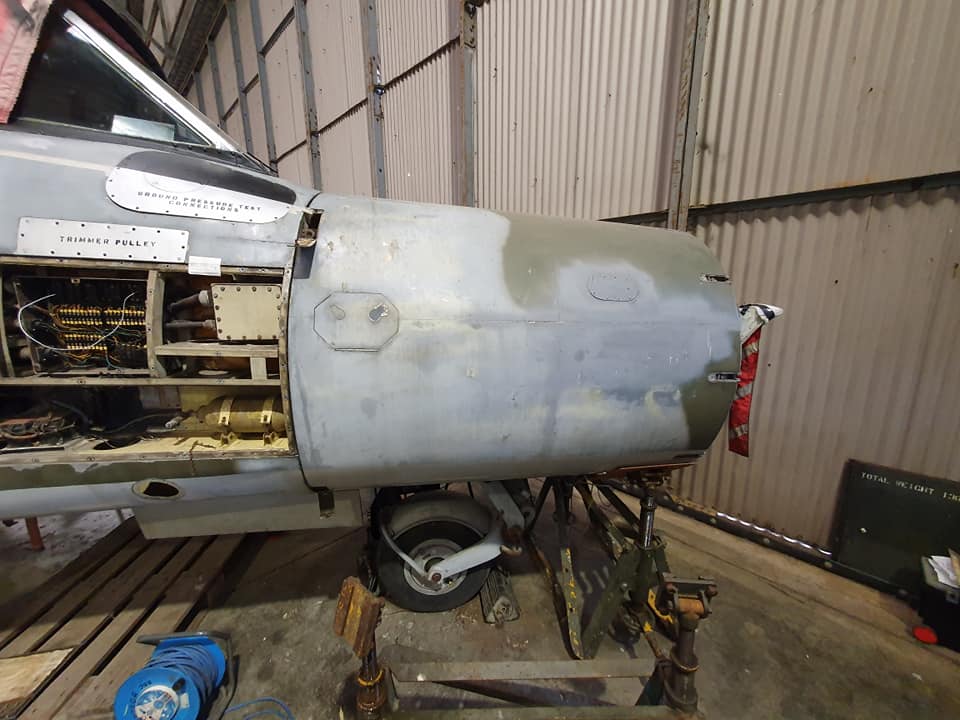 I know the pic is a little distorted, but my phone chose some odd mode to take the shot in. The important thing is, we are definitely beating the locator pin corrosion chokehold on the nose. A couple more weeks careful manipulation, and I think we'll see the extension nose off! While I was doing this for a good chunk of the morning, Laurence was finishing the paint prep on the canopy frame chassis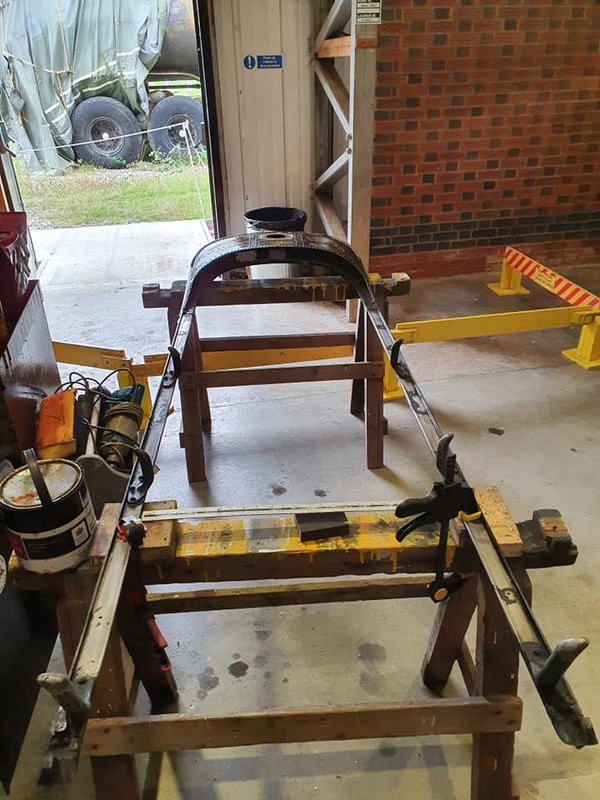 Seeing as it was a good painting day, I decided to prep up a few more bits. The port rear wing root fairing had again been partly paint stripped a while ago; I decided to finish the process with the sander. While doing so I found this part had just been painted over and over, giving us a lot of different layers of colours from 788's history to look at including her 1960's high speed silver coat, and beneath that her NF paint!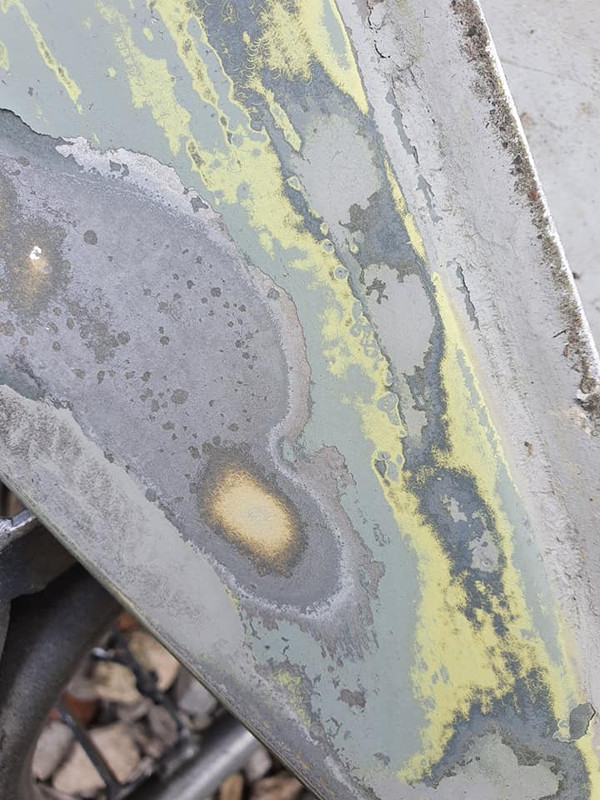 I also found a nice little example from her flying days of a diligent "Erk" at work; he had clearly spotted this crack in the wing root fairing forming and done the right thing, stop drilling it to stop it propagating further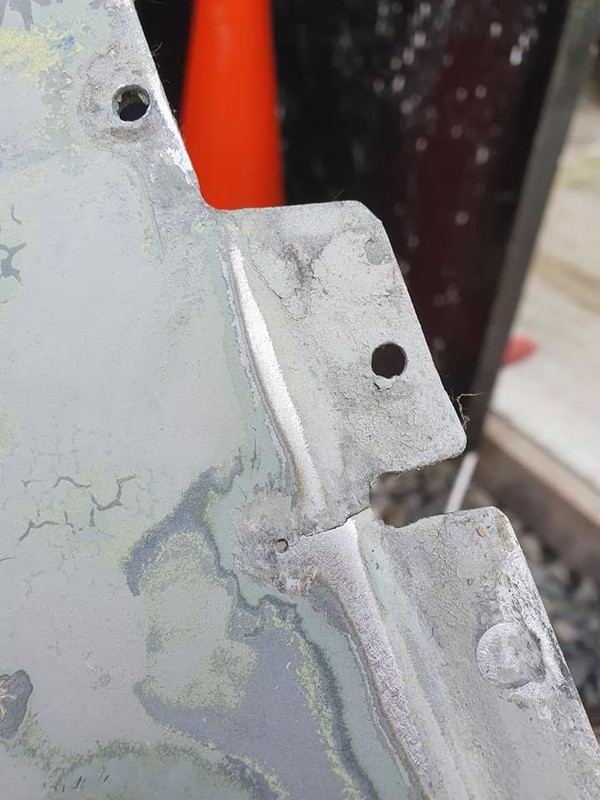 While I was prepping this panel Laurence commenced priming the canopy frame chassis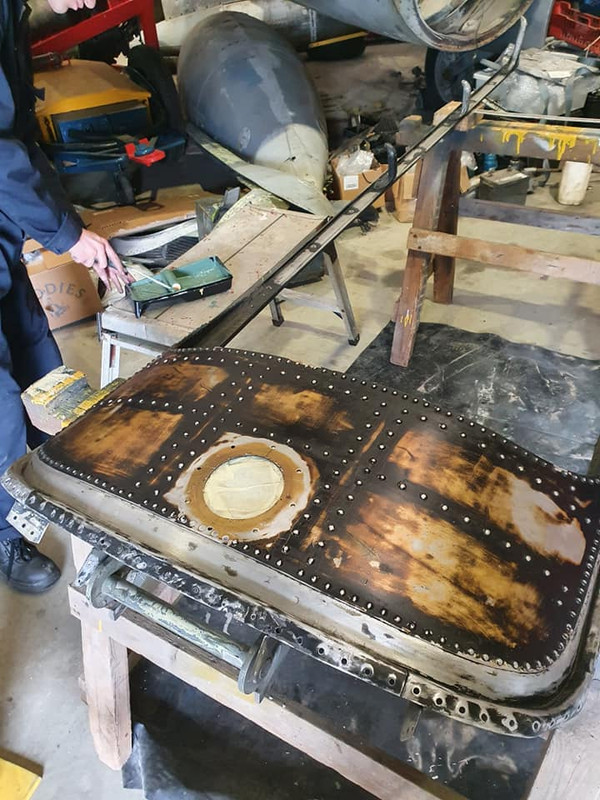 After which I nicked the roller off him to do the fairing!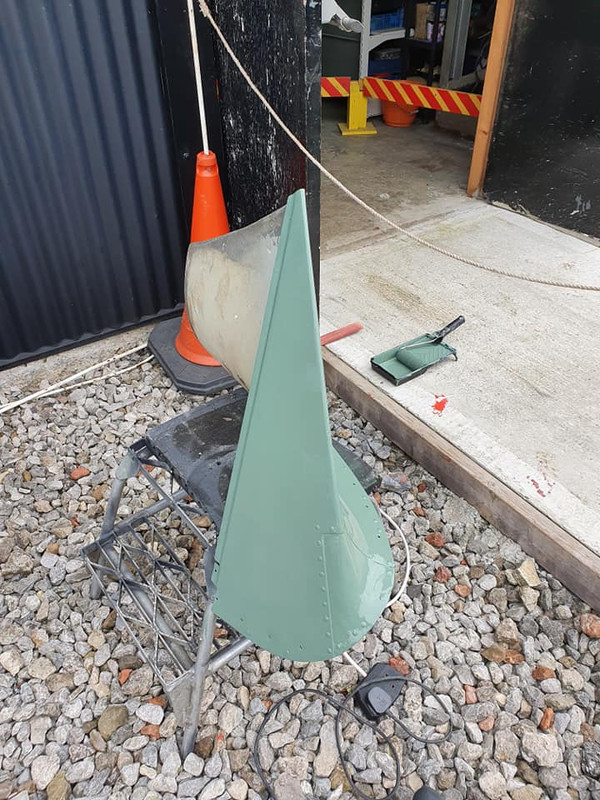 You could almost put that in the garden as a piece of modern art... Well... come to think of it we do have a spare starboard one...
The canopy chassis came up nicely too, in what Laurence has officially christened "Wierd Green"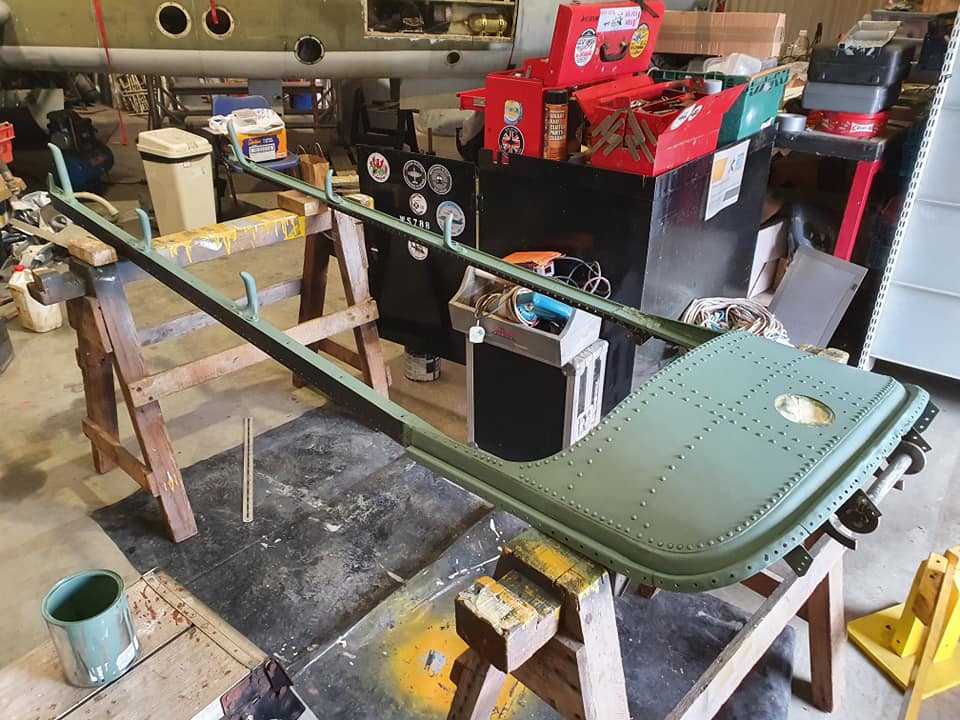 We went for a spot of late lunch, on return Laurence broke out fresh rollers and started returning the canopy chassis to "less wierd black"...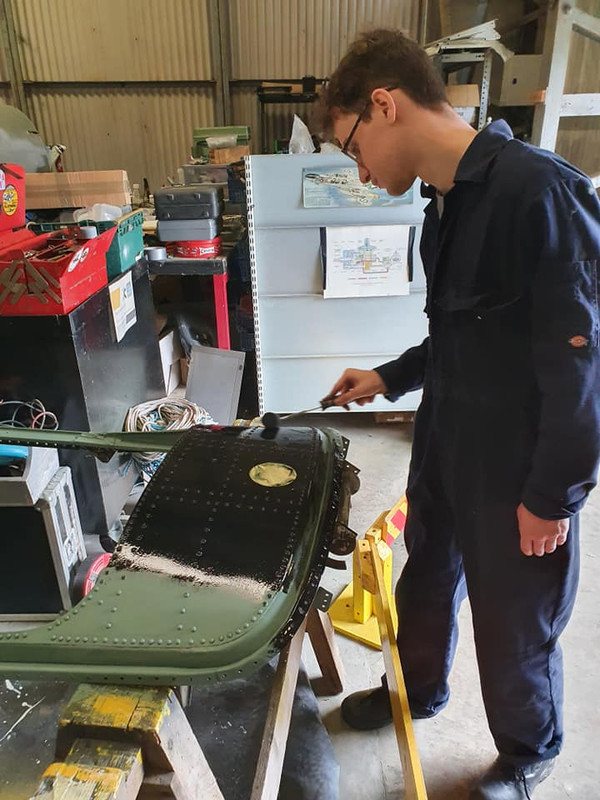 There was enough primer in the roller tray to do a couple more little panels so I decided to prep and paint the leading edge sections of the wing join fairing strips. First I had to finish yet another job started years ago, before we moved inside in fact, replacing the last of the 4 catches which hold them on with a brand new item which has been rattling around our red tool chest for far too long now! That done, I cracked on with the prep, finding part numbers galore once more
I then used the last of the primer in the tray on these, while Laurence finished off the canopy chassis' first coat
What he omitted to tell me was he had used the last roller from our stock! So, I popped out to our nearest DIY superstore with some petty cash and returned with new rollers. His penance for not telling me he had used the roller stock was to clean up and repaint in GSE blue my recently acquired £8 bargain step (roadside sales can be a wonderful thing!), while I silvered the leading edge sections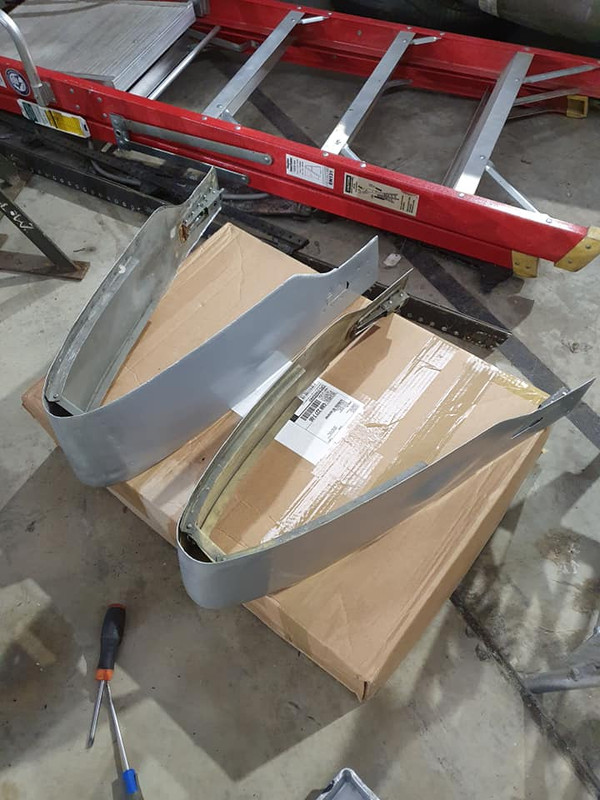 And the trailing edge fairing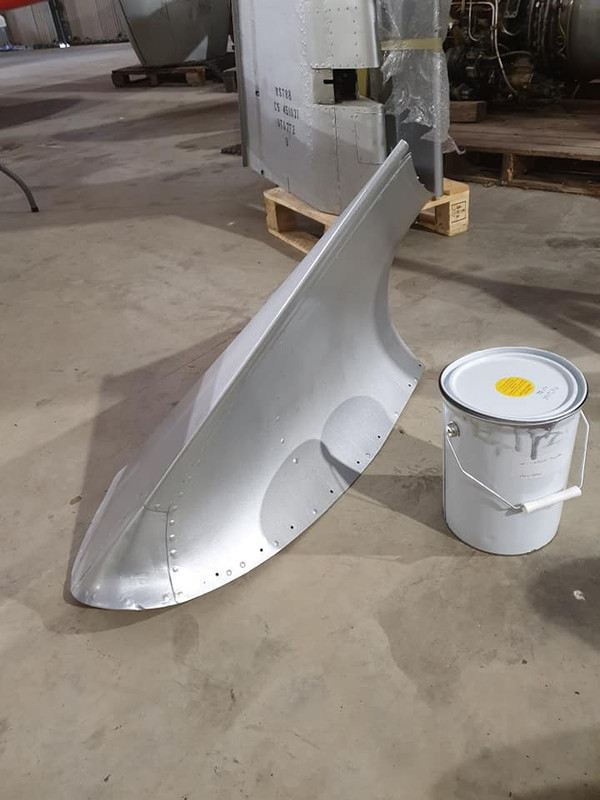 I have to say, he did do a nice job!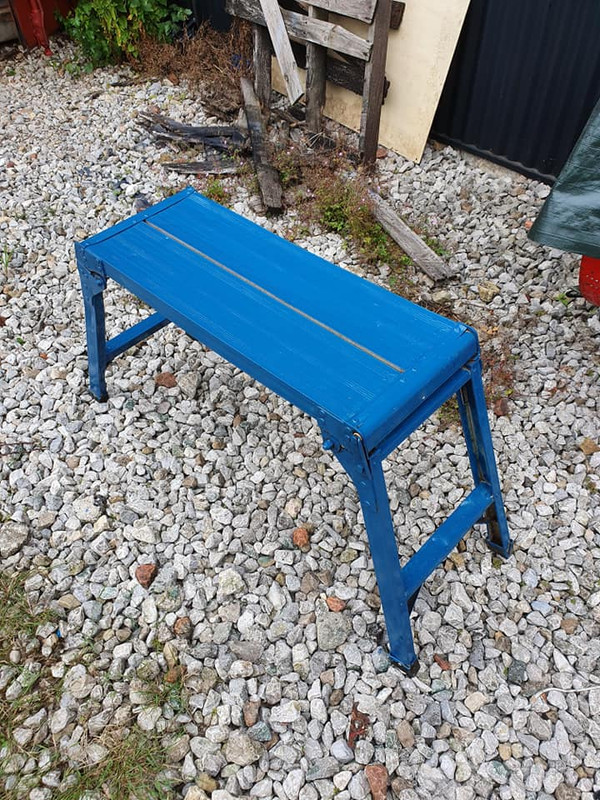 Even adding "METEOR" stencilling once it was dry to dissuade anyone from "liberating" it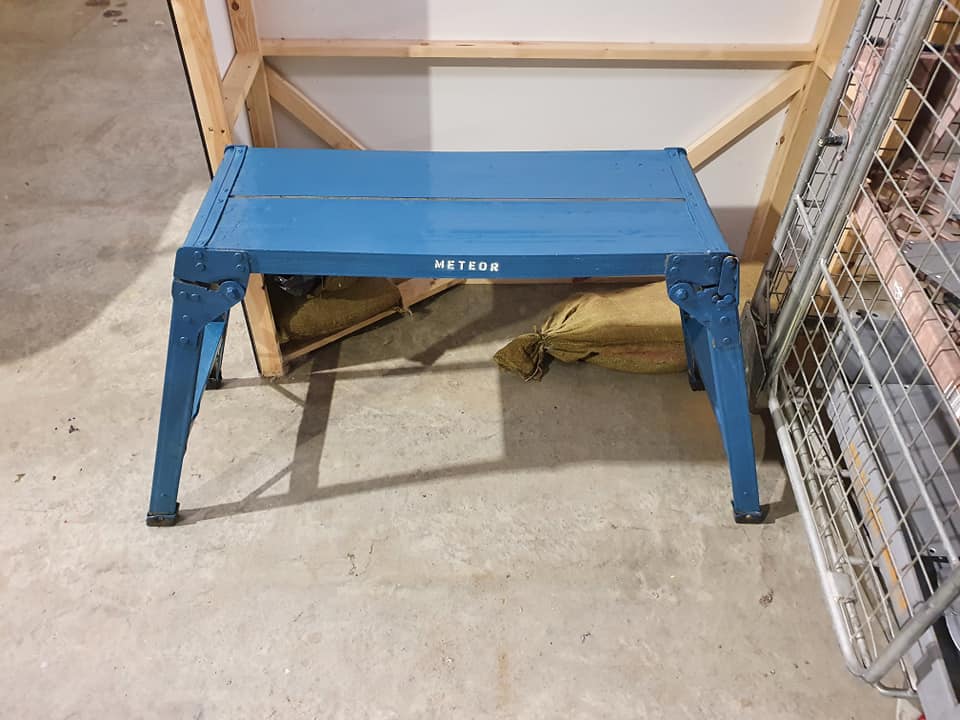 The canopy chassis also received a second coat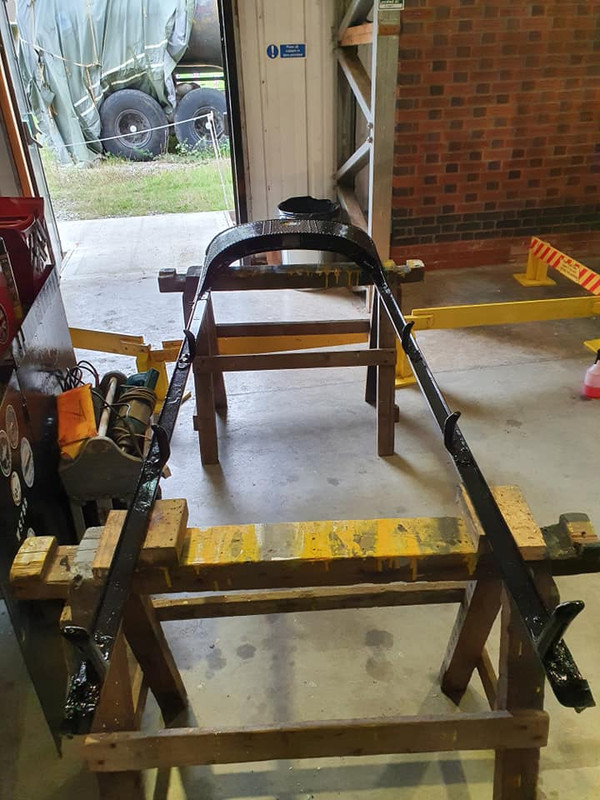 After which we de-masked the data plate. I still find that mid November 1964 build date, a year before she retired, bizarre.
It is a bit glossier than it would have been in service; we'll see how it cures and settles.
To be fair I'm not fussed if it does dry glossy, it'll be easier to clean! That covers it for this weekend; more next time folks.